The Development of Gerbanz Game as Learning Media to Practice Vocabulary Skill of German Speaking Skill in SMAN 7 Malang
Abstract
This research aims to develop Gerbanz as a learning media which can be used to train and assist students for their german vocabulary and speaking skills with Alltagslebenas the main theme. ADDIE method by Dick and Carey (1996) is used as the development method in this research. Datas are collected through questionnaire sheets and interview. Questionnaire sheets are given to media and subject experts to validate the media. The questionnaire sheets are analyzed quantitatively. Interview is done with the students who use the media in German class. This aims to get the responses from students about the effectiveness of the media in German class. The result of the interview is analyzed descriptively. The result shows that Gerbanz is an effective and valid learning media which can be used in learning German.
Keywords
Media Pembelajaran; Learning Media; Kosakata; Vocabulary; Keterampilan Berbicara Bahasa Jerman; German Speaking Skill
Refbacks
There are currently no refbacks.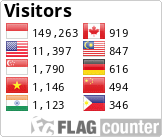 This work is licensed under a Creative Commons Attribution-NonCommercial 4.0 International License