THE DEVELOPMENT MEDIA QUIZ "LASS UNS SPIELEN"
Abstract
The purpose of this research and development is to develop "Lass uns spielen" media which supports German learning process in class X language program of senior high school. The development of "Lass uns spielen" media has been adaptsed from Plomp development media and has been modified into 4 steps : (1) preliminary investigation, (2)design, (3) realization or construction, and (4) test, evaluation and revision. In this research, the instrument used to collect data are questionnaires and observation sheets. The quistionnaires ist fulfilled by validator in order to get the data and the result of the experimental observation is analyzed qualitatively descriptively. Based on the results of the questionnaire and the observation, it indicates that the media "Lass uns spielen" is appropriate to be used as media to support German learning in class X language program of senior high school.
Keywords
learning media, Lass uns spielen, German learning
References
Daryanto. 2013. Media Pembelajaran. Bandung: PT. Sarana Tutorial Nurani Sejahtera.
Munadi, Yudhi. 2008. Media Pembelajaran: Sebuah Pendekatan Baru. Jakarta: Referensi.
Purbaningrum, Kus Andini. 2017. Berpikir Tingkat Rendah Menuju Berpikir Tingkat Tinggi. Jurnal Program Studi Pendidikan dan Penelitian Matematika, 16 (1): 61-76.
Rochmad. 2012. Desain Model Pengembangan Perangkat Pembelajaran Matematikaa. Jurnal Portal Garuda.
Sadiman, Arief. 2008. Media Pendidikan, Pengertian, Pengembangan dan Pemanfaatannya. Jakarta: PT. Raya Grafindo Persada.
Rohma, Nikamtu. 2012. Pengembangan Media Kuis Interaktif Berbasis Komputer untuk Keterampilan Membaca Bahasa Jerman Kelas XI-IPS 4 SMA Negeri 1 Dampit Tahun Ajaran 2011/2012. Die Werke, 1(1), (online). (http://jurnal-online.um.ac.id/data/artikel/artikelE0E6DDA5A26F3D6D6C5F951A499F2438.pdf)
Refbacks
There are currently no refbacks.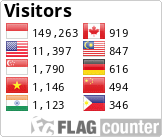 This work is licensed under a Creative Commons Attribution-NonCommercial 4.0 International License.