THE IMPLEMENTATION OF "MELANJUTKAN CERITA" LEARNING TECHNIQUE ON KONVERSATION II COURSE IN GERMAN DEPARTMENT OF STATE UNIVERSITY OF MALANG
Abstract
This research aims to describe the learning process by using "Melanjutkan Cerita" technique and to know the response of German Literature students in the Universitas Negeri Malang on this learning technique. The learning technique of "Melanjutkan Cerita" is one of language learning techniques that can be used to train speaking skill as well as to re-activate students' understanding about grammatical theory that have been learned. The method used in this research is qualitative descriptive with verbal data. The subjects of this research are 24 students from offering A of German Literature Department in the Universitas Negeri Malang, academic year of 2015 and 2016. Data collection is conducted by observation and questionnaire with the instruments of observation and questionnaire sheets. The results show that the implementation of "Melanjutkan Cerita" technique in Konversation II course running well. The respondents also stated that this learning technique can help them to improve their German speaking skill.
Refbacks
There are currently no refbacks.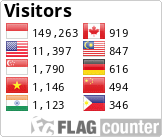 This work is licensed under a Creative Commons Attribution-NonCommercial 4.0 International License.