Potensi Wilayah Sekitar Pantai Selatan Kabupaten Lebak Provinsi Banten dalam Mendukung Pembangunan Pariwisata
Abstract
Pantai selatan Kabupaten Lebak sebagian telah dikembangkan sebagai obyek wisata, namun hingga saat ini belum sepenuhnya dapat menarik wisatawan domestik maupun internasional. Dalam pembangunan pariwisata diperlukan dukungan penduduk dan aktivitasnya, serta aksesibilitas yang berada di sekitar pantai. Tujuan penelitian ini yaitu untuk mengetahui potensi wilayah sekitar pantai selatan Kabupaten Lebak. Metode analisis yang digunakan dalam penelitian ini adalah analisis faktor (factor analysis) yang diekstraksi dengan analisis komponen utama (Principal component analysis/ PCA) untuk menganalisis potensi wilayah sekitar pantai selatan Kabupaten Lebak dan analisis keruangan (spatial analysis) dengan menggunakan peta untuk pengembangan pariwisata . Hasil yang diperoleh menunjukan bahwa potensi wilayah antar desa bervariasi, namun sebagian besar merupakan desa yang didominasi oleh penggunaan lahan perkebunan, jumlah dan kepadatan penduduk rendah hingga sedang, pendidikan penduduk didominasi oleh pendidikan dasar, mata pencaharian didominasi oleh petani dan buruh tani, aksesibilitas  relatif sedang hingga rendah.  Secara spasial menunjukkan pengembangan pariwisata lebih  diprioritaskan di bagian timur pantai selatan Kabupaten Lebak seperti Desa Sawarna Kecamatan Bayah, yang letaknya lebih dekat dengan pantai Pelabuhanratu Sukabumi yang lebih berkembang dan mempunyai variasi atraksi pariwisata.
Keywords
Geografi Potensi Wilayah, Pariwisata Pantai Lebak.
References
Ajala OA & Aliu IR. 2013. Tourism and Integrated Development: A Geographic Perspective. Geografika Online, Malaysia Journal of Sciety and Space 9 Issue.
Aeni, Eni Nur. 2011. Studi Komparatif Kebijakan Pemerintah Daerah Dalam Program Pemulihan Kembali Daerah Wisata Pantai Pasca Bencana. Jurnal Ilmiah Pariwisata, Juli 2011, Vol. 16 No. 2. Hal 126 -141.
Atkinson, Doreen. 2016. Is`South Africa's Great Karoo Region Becoming a Tourism Destination. Journal of Arid Environments Elsever Ltd.
Akdag, Gurhan & Zafer Oter. 2011. Assesment of World Tourism from a Geographical Perspective and a Comparative View of Leading Destinations in The Market. Science Direct.: Elsevier Ltd.
Biddulph, Robin. 2015. Limits to Mass Tourism's Effects in Rural. Journal Annals of Tourism Research 50 (2015) 98-112.
Burton, R. 2005. Travel Geography. Pitman Publishing. USA.
Fatimah, Titin. 2015. The Impacts of Rural Tourism Initiatives on Cutural Landscape Sustainability in Borobudur Area. Procedia: Social and Behavioral Sciences 216 (2015567 -577)
Gruber, Denis. 2008. Interduction in social Network analysis. Theoretical Approaches and Empirical Analysis with computer-assisted progammes. State University of St. Petersburg. Faculty of Sociology.DAAD.
Gavilan, M.Dolores Sarrion et al. 2015. Spatial Distribution of Tourism Supply in Andalusia. Journal Tourism Mansgement Perspectives 15 (2015) 9-45, Elsevier Ltd. Johnson, Nuala C. 2016. Where Geography and History Meet: Heritage Tourism and The Big House in Ire-land. Taylor & Francis, Association of American Geographere, This Content Downloaded 11 mar 2016.
Nawawi, Ahmad. 2013. Partisipasi Masyarakat Dalam Pengelolaan Wisata Pantai Depok di Desa Kretek Parangtritis. Jurnal Nasional Pariwisata, Volume 5, Nomor 2, Agustus 2013 (103-109). ISSN: 1411-9862.
Obonyo, George Otieno & Erick Victor Onyango Fwaya. 2012. Integrating Tourirsm With Rural Development Strategies in Western Kenya. International Journal of Hospitality & Tourism Systems, Volume 5 Issue 2 Desember 2012. ISSN: 0947-6250 Print.
Susilowati MH.Dewi, Tuty H, Ratna S 2012. Pemetaan Kantong Kemiskinan dan Potensi Wilayah Untuk Pemberdayaan Keluarga Miskin diKabupaten Lebak Provinsi Banten. Indonesia: Hibah Stranas,UI
Susilowati MH. Dewi, Tuty H, Ratna S. 2013. Pemberdayaan Keluarga Miskin Melalui Pemanfaatan Lahan dan Pengolahan Hasil Pekarangan. Hibah CEGs UI
Susilowati MH. Dewi, Ratna S. Tito L.I 2009. Pemodelan Struktur Ruang Perkotaan (Studi Kasus Kota Bekasi). DRPM Universitas Indonesia.
Tanaya, Dhayita Rukti dan Iwan Rudiarto, 2014. Potensi Pengembangan Ekowisata Berbasih Masyarakat di Kawasan Rawa Pening, Kabupaten Semarang. Jurnal Teknik PWK Volume 3 Nomer 1, 2014, Online: http://ejournalsl.undip.ac.id/index.php/pwk.
Vitasurya, Vincenti Reni. 2015. Local Wisdom for Sustainable Development of Rural Tourism, Case on Kaliburu and Lopati Village, Province of Daerah Istimewa Yogyakarta. Procedia: Social and Behavioral Sciences 216 (2016) 97 – 108.
Yoeti ,H. Oka A. 2000. Ekowisata, Pari-wisata Berwawasan Lingkungan Hidup. PT. Pertjo. Jakarta.
Zaidah, Esmat. 2016. The Impact of Culture Distance on Local Residence on Local Residents perception of Tourism Development: The Case of Dubai in UAE. Journal of Tourism, vol 64 (1) 109-126.
Zakaria, Faris. 2014. Konsep Pengembangan Kawasan Desa Wisata di Desa Bandungan Kecamatan Pakokng Kabupaten Pamekasan. Journal Teknik Pomits Vol. 3, No 2 (2014) ISSN 2337-3539.
DOI:
http://dx.doi.org/10.17977/jpg.v22i2.1001
Refbacks
There are currently no refbacks.
Copyright (c) 2017 Jurnal Pendidikan Geografi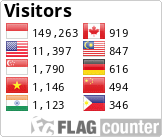 Jurnal Pendidikan Geografi: Kajian, Teori, dan Praktek dalam Bidang Pendidikan dan Ilmu Geografi is licensed under Creative Commons Attribution-ShareAlike 4.0 International License,
JPG Indexed By:
View My Stats