Kesiapan infrastruktur data spasial sebagai upaya mitigasi banjir lahar di kali putih Kabupaten Magelang Jawa Tengah
Abstract
Availability of Spatial Data Infrastructure (SDI) has an important role in disaster management. The purpose of this research is to analyze the readiness of the Spatial Data Infrastructure (IDS) as an effort to mitigate the lava flood in Kali Putih, Magelang Regency, Central Java. The research method was carried out by interview, survey and secondary data collection and SWOT analysis. The results of the SWOT analysis, on the Strength-Opportunity matrix, conclude that the optimization of Spatial Data Infrastructure (IDS) and the Indonesian National Standard (SNI) in the field of Geospatial Information (IG). The Strenght-Threath analysis concludes the need to use quality spatial data for government agencies. Opportunity - Weakness analysis concludes that there is a need for Web GIS development and the need to improve the quality of GI and the quality of human resources in the field of GI. Threat-Weakness analysis resulted in a conclusion, namely the need to refer to the one map and one data policy as well as the ID and SDI field policies.
Ketersediaan Infrastruktur Data Spasial (SDI) memiliki peran penting dalam manajemen bencana.  Tujuan penelitin ini adalah untuk menganalisis kesiapan Infrastruktur Data Spasial (IDS) sebagai upaya mitigasi banjir lahar di Kali Putih Kabupaten Magelang Jawa Tengah. Metode penelitian dilakukan dengan wawancara, survei dan pengumpulan data sekunder serta analisa SWOT. Hasil analisa SWOT, Strenght-Opportunity disimpulkan perlunya optimalisasi Infrastruktur Data Spasial (IDS) dan Standar Nasional Indonesia (SNI) bidang Informasi Geospasial (IG). Analisis Strenght-Threath menyimpulkan perlunya penggunaan data spasial yang berkualitas bagi intansi pemerintah. Analisis Opportunity – Weakness menyimpulkan bahwa perlu adanya pengembangan Web GIS dan perlunya peningkatan kualitas IG dan kualitas SDM di bidang IG. Analisis Threat-Weakness menghasilkan kesimpulan, yaitu perlunya mengacu pada kebijakan satu peta dan satu data sert kebijakan bidang ID dan SDI.
Keywords
data spasial; IDS; lahar; mitigasi
References
Capra, L., Coviello, V., Borselli, L., Márquez-Ramírez, V. H., & Arámbula-Mendoza, R. (2018). Hydrological control of large hurricane-induced lahars: evidence from rainfall-runoff modeling, seismic and video monitoring. Natural Hazards & Earth System Sciences, 18(3).
Crompvoets, J. A. (2004). Assessing the worldwide developments of national spatial data clearinghouses. International Journal of Geographical Information Science, 665-689.
Groot, R. a. (2000). Geospatial data infrastructure: Concepts,cse and good practice. UK: Oxford University Press.
Firmansyah. (2011). Identifikasi tingkat risiko bencana letusan Gunung Api Gamalama di Kota Ternate. Jurnal Lingkungan dan Bencana Geologi (JLBG-Jurnal Lingkungan dan Bencana Geologi) 2 93: 203-219.
Furoida, K dan Fahkri, M. (2019). Strategi penanggulangan bencana longsor lahan berdasarkan sistem informasi geografi dan analisis SWOT studi kasus: Kecamatan Tawangmangu Kabupaten Karanganayar. Prosiding. Seminar Nasional Geografi FKIP UMP.
Hadi, P. S. (2011). Dampak bencana aliran lahar dingin Gunung Merapi pasca erupsi di Kali Putih. Yogyakarta: Badan Pertimbangan Penelitian Bidang Sain dan Teknologi
Hadmoko,D. S. (2014). Banjir lahar pembentukan, proses, dampak, dan mitigasinya. Yogyakarta: Gadjah Mada University Press.
Hadmoko, D.S., Santosa, L.W., Suratman, Marfai, M. A., Widiyanto. (2011). Peranan geomorfologi dalam pengurangan risiko banjir lahar. Proceeding. Mitigasi Bencana Lahar Gunung Api Merapi Pasca Erupsi 2010.
Kusky, T. (2008). Volcanoes: eruption and other volcanic hazard. New York: Facts on File, Inc.z.
Mansourian, A. R. (2005). Development of an SDI. Map Middle East 2005.
Masinu, L. A., Riva, M., Mane, L. D. (2018). Fenomena gunung api Gamalama terhadap dampak aliran lahar. Jurnal Pendidikan Geografi Kajian, Teori, dan Praktik dalam Bidang Pendidikan Geografi dan Ilmu Geografi. Vol : 2 (23) (113-121).
Montoya, A. (2002). GIS and remote sensing in urban disaster management. Proceedings of the 5th AGILE conference on geographic information science. Palma, Spain: ed. by. M. Ruiz, M. Gould and J. Ramon, Universitat de les Illes Balears.
Putra, T. T. (2012). A Local spatial data infrastructure to support the Merapi volcanic risk management a case study: at Sleman Regency, Indonesia. Indonesian Journal of Geography, 25-48.
Permatasari, A. L., Suherningtyas, I. A. & Wiguna, P. P. K. (2020). Analysis of local spatial data infrastructure to support volcanic mudflow mitigation along Putih River, Magelang Regency, Central Java Province, Indonesia. Forum Geografi, 34 (1), 66-76.
RI, U. (2007). Penataan ruang, lembaran negara Republik Indonesia tahun 2007 nomor 68, tambahan lembaran negara Republik Indonesia nomor 4725. Indonesia.
RI, U. (2011). Infromasi geospasial, lembaran negara Republik Indonesia Tahun 2011. Republik Indonesia.
Silalahi, M & Wahyudi, D. (2018). Perbandingan performansi database mongodb dan mysql dalam aplikasi file multimedia berbasis web. CBIS Journal, 06(01), 63-78.
Suparman, T. W. (2011). Sabo untuk penanggulangan bencana akibat aliran sedimen. Yayasan Air Adhi Eka.
Surono, J. P. (2012). The 2010 explosive eruption of Java's Merapi Volcano a '100-year' vvent. Journal of Volcanology and Geothermal Research, 241–242, 121–135.
Toomanian, A. (2012). Methods to improve and evaluate spatial data infrastructures. Lund. Swedia: Department of Physical Geography and Ecosystem Science, Lund University.
Westen, V. (2005). Multihazard risk assessment. Netherland: UNU-ITC-DGIM. ITC.
Wiwaha, A.,A., Gunanda, D.A., Krisnawati, R. (2018). Strategi recovery sektor pertanian pasca bencana gempa di Kabupaten Lombok Utara. Jurnal Dialog Penanggulanagan Bencana. Vol 9 (20) (89-101).
Zhigang Yan, P. D. (2005, Oktober). Local spatial data infrastructure for medium sized developing cities in China, Taking Xuzhou as an example.
DOI:
http://dx.doi.org/10.17977/um017v26i12021p015
Refbacks
There are currently no refbacks.
Copyright (c) 2021 Jurnal Pendidikan Geografi: Kajian, Teori, dan Praktek dalam Bidang Pendidikan dan Ilmu Geografi
This work is licensed under a
Creative Commons Attribution-ShareAlike 4.0 International License
.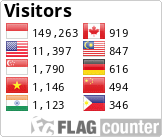 Jurnal Pendidikan Geografi: Kajian, Teori, dan Praktek dalam Bidang Pendidikan dan Ilmu Geografi is licensed under Creative Commons Attribution-ShareAlike 4.0 International License,
JPG Indexed By:
View My Stats