Faktor-faktor kesiapsiagaan bencana terintegrasi pengetahuan prekursor gempa bumi pada mahasiswa Pendidikan IPA
Abstract
Preparedness is the main competency that must be possessed by disaster-prone communities, including students. Preparedness is built on knowledge. Previous research shows the level of student preparedness varies greatly, but there is no explanation yet about the relationship of knowledge and other factors that affect student preparedness. In addition, preparedness measures have not yet examined the component of disaster markers or precursors. This research was conducted to describe the factors associated with the level of student preparedness. The study population was science education students and the research sample was determined purposively, so that 104 science students took IPBA courses as samples. Research is descriptive research. Data collection was carried out through a TPPG preparedness questionnaire and an earthquake precursor knowledge test. In addition, secondary data in the form of UTS values are also used that represent basic earthly knowledge that is relevant to earthquake preparedness. The results showed that 1) TPPG preparedness for students was in the moderate / sufficient category, 2) preparedness was influenced by the area of origin of students and was not influenced by gender and earth knowledge, 3) students' knowledge of earthquake markers was very low.
Kesiapsiagaan merupakan kompetensi utama yang harus dimiliki oleh masyarakat rawan bencana, termasuk pada mahasiswa. Kesiapsiagaan dibangun oleh pengetahuan. Penelitian terdahulu menunjukkan level kesiapsiagaan mahasiswa sangat bervariasi, namun belum terdapat penjelasan tentang hubungan pengetahuan dan faktor-faktor lain yang memengaruhi kesiapsiagaan mahasiswa. Selain itu, pengukuran kesiapsiagaan belum mengkaji komponen penanda bencana atau prekursor. Penelitian ini dilakukan untuk mendeskripsikan faktor-faktor yang berhubungan dengan level kesiapsiagaan mahasiswa. Populasi penelitian  adalah mahasiwa pendidikan IPA dan penentuan sampel penelitian dilakukan secara purposive, sehingga sebanyak 104 mahasiwa pendidikan IPA yang mengambil matakuliah IPBA ditetapkan sebagai sampel. Penelitian merupakan penelitian deksriptif. Pengumpulan data dilakukan melalui angket kesiapsiagaan TPPG dan tes pengetahuan prekursor gempabumi. Selain itu, juga digunakan data sekunder berupa nilai Ujian Tengah Semester yang merespresentasikan pengetahuan dasar kebumian yang relevan dengan kesiapsiagaan gempabumi. Teknik analisis data yang digunakan adalah Uji Korelasi Kendalls' tau dan kuantitatif-deskriptif. Hasil penelitian menunjukkan bahwa 1) kesiapsiagaan TPPG pada mahasiswa berada pada kategori sedang/cukup, 2) kesiapsiagaan dipengaruhi oleh daerah asal mahasiswa dan tidak dipengaruhi oleh jenis kelamin dan pengetahuan kebumian, 3) pengetahuan mahasiswa tentang penanda gempabumi sangat rendah. Dapat disimpulkan bahwa daerah asal memengaruhi kesiapsiagaan TPPG mahasiswa pendidikan IPA.
Keywords
Kesiapsiagaan; jenis kelamin; daerah asal; penanda gempa bumi; mahasiswa
References
Addiarto, W., & Yunita, R. (2019). Upaya mewujudkan kampus siaga bencana melalui peningkatan kesiapsiagaan mahasiswa keperawatan dengan penerapan metode Tabletop Disaster Exercise. Jurnal Ilmiah Kesehatan Keperawatan, 15(1), 35–39. https://doi.org/10.26753/jikk.v15i1.313.
Adiyoso, W., & Kanegae, H. (2013). The preliminary study of the role of Islamic teaching in the disaster risk reduction (a qualitative case study of Banda Aceh, Indonesia). Procedia Environmental Sciences, 17, 918–927. https://doi.org/10.1016/j.proenv.2013.02.110.
Ahadi, S., Puspito, N. T., & Ibrahim, G. (2015). Anomalous ULF emissions and their possible association with the strong earthquakes in Sumatra, Indonesia, during 2007-2012. J.Math.Fund.Sci, 47(1), 84–103. https://doi.org/10.5614/j.math.fund.sci.2015.47.1.7.
Baytiyeh, H., & Naja, M. K. (2014). Can education reduce middle eastern fatalistic attitude regarding earthquake disasters?. Disaster Prevention and Management, 23(4), 343–355. https://doi.org/10.1108/DPM-12-2013-0219.
BMKG. (2019). Katalog gempa bumi signifikan dan merusak. Jakarta: Pusat Gempa dan Tsunami Kedeputian Bidang Geofisika.
Bommer, J. J., Crowley, H., & Pinho, R. (2015). A risk-mitigation approach to the management of induced seismicity. Journal of Seismology, 19(2), 623–646. https://doi.org/10.1007/s10950-015-9478-z.
Brown, L. M., Haun, J. N., & Peterson, L. (2014). A proposed disaster literacy model. Disaster Medicine and Public Health Preparedness, 8(3), 267–275. https://doi.org/10.1017/dmp.2014.43.
Coppola, D. P. (2015). Introduction to International Disaster Management (Edition, T; S. Scott, Ed.). https://doi.org/10.1016/C2009-0-64027-7.
Daneshvar, M. R. M., Tavousi, T., & Khosravi, M. (2014). Synoptic detection of the short-term atmospheric precursors prior to a major earthquake in the Middle East, North Saravan M 7.8 earthquake, SE Iran. Air Quality, Atmosphere and Health, 7(1), 29–39. https://doi.org/10.1007/s11869-013-0214-y.
Deb, A., Gazi, M., Ghosh, J., Chowdhury, S., & Barman, C. (2018). Monitoring of soil radon by SSNTD in Eastern India in search of possible earthquake precursor. Journal of Environmental Radioactivity, 184–185(January), 63–70. https://doi.org/10.1016/j.jenvrad.2018.01.009.
Fadhil, A. (2019). Hubungan pengetahuan, sikap, dan tindakan terhadap kesiapsiagaan bencana alam pada mahasiswa Program Studi Profesi Dokter Fakultas Kedokteran Universitas Andalas (Universitas Andalas). https://doi.org/10.1017/CBO9781107415324.004.
Fadilah, M., Permanasari, A., Riandi, & Maryani, E. (2020). The level of disaster literacy of earthquake-experienced students in Mathematics and Science Faculty of State University in Indonesia. Journal of Engineering Science and Technology, Special Is(February), 30–38.
Fauzi, A. R., Hidayati, A., Subagyo, D. O., Sukini, & Latif, N. (2017). Hubungan tingkat pengetahuan bencana dengan kesiapsiagaan masyarakat di Kecamatan Wonogiri dalam menghadapi bencana gempa bumi. Prosiding Seminar Nasional Geografi UMS 2017, 319–330. Retrieved from http://hdl.handle.net/11617/9039.
Fidani, C., Freund, F., & Grant, R. (2014). Cows come down from the mountains before the (Mw = 6.1) earthquake Colfiorito in September 1997; a single case study. Animals, 4(2), 292–312. https://doi.org/10.3390/ani4020292.
Freund, F., & Stolc, V. (2013). Nature of pre-earthquake phenomena and their effects on living organisms. Animals, 3(2), 513–531. https://doi.org/10.3390/ani3020513.
Hariyanto, S., & Kurniawati. (2019). Pengaruh metode simulasi bencana banjir terhadap tingkat kesiapsiagaan mahasiswa program studi Ilmu Keperawatan FIK UNIPDU Jombang. Journals of Ners Community, 10(1), 67–73.
Havwina, T., Maryani, E., & Nandi, N. (2017). Pengaruh pengalaman bencana terhadap kesiapsiagaan peserta didik dalam menghadapi ancaman gempa bumi dan tsunami. Jurnal Geografi Gea, 16(2), 124. https://doi.org/10.17509/gea.v16i2.4041.
Hidayati, D., Widyatun, P., Triono, & Kusumawati. (2011). Panduan mengukur tingkat kesiapsiagaan masyarakat dan komunitas sekolah. Jakarta: LIPI Press.
Ilham, M., Mulyadi, Imran, Syahrul, Mudatsir, & ZK, J. (2016). Evaluasi partisipasi pendidikan kebencanaan pada mahasiswa Fakultas Kedokteran Universitas Syiah Kuala (setelah mengikuti blok disaster management). Jurnal Kedokteran Syiah Kuala, 16(3), 146–152.
Irsyam, M., Hendriyawan, Natawijaya, D. H., Daryono, M. R., Widiantoro, S., Asrurifak, M., … Faisal, L. (2017). Development of new seismic hazard maps of Indonesia 2017. Proceedings of the 19th International Conference on Soil Mechanics and Geotechnical Engineering, Seoul 2017, 1525–1528.
Iryanthony, S. B. (2015). Pengembangan modul kesiapsiagaan bencana angin puting beliung untuk mahasiswa Pendidikan Geografi Unnes. Pengembangan Modul Kesiapsiagaan Bencana Angin Puting Beliung Untuk Mahasiswa Pendidikan Geografi Unnes, 12(2), 143–154. https://doi.org/10.15294/jg.v12i2.8002.
Kirschvink, J. L. (2000). Earthquake prediction by animals: evolution and sensory perception. Journal of Seismological Society of America, 90(2), 312–323. https://doi.org/10.1785/0119980114.
Kohn, S., Eaton, J. L., Feroz, S., Bainbridge, A. A., Hoolachan, J., & Barnett, D. J. (2012). Personal disaster preparedness: an integrative review of the literature. Disaster Medicine and Public Health Preparedness, 6(3), 217–231. https://doi.org/10.1001/dmp.2012.47.
Kurniawati, D., & Suwito, S. (2019). Pengaruh pengetahuan kebencanaan terhadap sikap kesiapsiagaan dalam menghadapi bencana pada mahasiswa Program Studi Pendidikan Geografi Universitas Kanjuruhan Malang. JPIG (Jurnal Pendidikan Dan Ilmu Geografi), 2(2). https://doi.org/10.21067/jpig.v2i2.3507.
LIPI_UNESCO/ISDR. (2006). Kajian kesiapsiagaan masyarakat dalam mengantisipasi bencana gempa bumi & tsunami. Jakarta: UNESCO Office.
Marlyono, S. G., Pasya, G. K., & Nandi, N. (2016). Pengaruh literasi informasi bencana terhadap kesiapsiagaan masyarakat dalam menghadapi bencana di Provinsi Jawa Barat. Jurnal Pendidikan Geografi, 16(2), 116–123.
Morozova, L. I. (2012). Crustal geodynamic activity: Manifestations in cloud fields. Russian Geology and Geophysics, 53(4), 416–423. https://doi.org/10.1016/j.rgg.2012.02.014.
Muafiroh, D. F. M., Suroto, S., & Ekawati, E. (2017). Faktor – faktor yang berhubungan dengan upaya kesiapsiagaan tanggap darurat Keselamatan dan Kesehatan Kerja (K3) di laboratorium kimia Departemen X Fakultas Y Universitas Diponegoro. Jurnal Kesehatan Masyarakat (e-Journal), 5(5), 105–114.
Normadewi, B., & Arifin. (2012). Analisis pengaruh jenis kelamin dan tingkat pendidikan terhadap persepsi etis mahasiswa Akuntansi dengan love of money sebagai variabel intervening. Universitas Dipoenegoro.
Novarita, A. (2019). Pengurangan risiko bencana pada sikap kesiapsiagaan dalam menghadapi bencana pada mahasiswa Program Studi Pendidikan Geografi Universitas Tadulako. Jurnal Pendidikan Geografi, 7(1), 1–9. https://doi.org/.1037//0033-2909.I26.1.78.
Oh, Y. H., & Kim, G. (2015). A radon-thoron isotope pair as a reliable earthquake precursor. Scientific Reports, 5, 220–225. https://doi.org/10.1038/srep13084.
Purborini, S. D., & Hastari, R. C. (2019). Analisis kemampuan spasial pada bangun ruang sisi datar ditinjau dari perbedaan gender. Jurnal Derivat: Jurnal Matematika dan Pendidikan Matematika, 5(1), 49–58. https://doi.org/10.31316/j.derivat.v5i1.147.
Rachmalia, M. N. S., Hatthakit, U., & Chaowalit, A. (2011). Tsunami preparedness of people living in affected and non-affected areas: A comparative study in coastal area in Aceh, Indonesia. Australasian Emergency Nursing Journal, 14(1), 17–25. https://doi.org/10.1016/j.aenj.2010.10.006.
Rafelito, & Triyatno. (2019). Kesiapsiagaan mahasiswa Universitas Negeri Padang terhadap Bencana Gempa dan Tsunami. Jurnal Kapita Seleksta Geografi, 2(2016), 109–115. https://doi.org/10.24036/ksgeo.v2i1.147.
Rahayu, R. D., & Wigna, W. (2011). Pengaruh lingkungan keluarga, sekolah dan masyarakat terhadap persepsi gender mahasiswa laki-laki dan perempuan. Sodality: Jurnal Sosiologi Pedesaan, 5(2). https://doi.org/10.22500/sodality.v5i2.5819.
Rizqillah, A. F. (2019). Disaster preparedness: Survey study pada mahasiswa Keperawatan Universitas Harapan Bangsa Purwokerto. Medisains, 16(3), 114. https://doi.org/10.30595/medisains.v16i3.3120.
Sajidah, C. F., Hasmunir, & Abdi, A. W. (2017). Korelasi nilai mata kuliah Geologi Umum dan Mitigasi Bencana dengan kesiapsiagaan menghadapi bencana gempa dan tsunami pada mahasiswa Program Studi Pendidikan Geografi FKIP Unsyiah. Ilmiah Mahasiswa Pendidikan Geografi FKIP Unsyiah, 2, 12–23. Retrieved from http://jurnal.unpad.ac.id/mkk/article/view/22742/11878.
Sampurno, P. J., Sari, Y. A., & Wijaya, A. D. (2015). Integrating STEM (Science , Technology, Engineering, Mathematics) and Disaster (STEM-D) education for building students. International Journal of Learning and Teaching, 1(1), 73–76. https://doi.org/10.13140/RG.2.1.2384.9443.
Saraf, A. K., & Choudhury, S. (2004). Satellite detects pre-earthquake thermal anomalies associated with past major earthquakes. Proceedings of Map Asia, 40.
Saraf, A. K., & Choudhury, S. (2005). Thermal remote sensing technique in the study of pre-earthquake thermal anomalies. J. Ind. Geophys. Union, 9(3), 197–207. Retrieved from http://igu.in/9-3/5arun.pdf.
Song, R., Hattori, K., Zhang, X., & Sanaka, S. (2020). Seismic-ionospheric effects prior to four earthquakes in Indonesia detected by the China seismo-electromagnetic satellite. Journal of Atmospheric and Solar-Terrestrial Physics, 205(April), 105291. https://doi.org/10.1016/j.jastp.2020.105291.
Sunardi, B., Muslim, B., & Pakpahan, S. (2016). Anomali Total Electron Content (TEC) sebelum gempa bumi kuat di Indonesia tahun 2014. Seminar Nasional Jurusan FISIKA FMIPA UNESA 2015, (November2015).
Tjandra, K. (2018). Indonesia rawan bencana geologi dalam empat bencana geologi yang paling mematikan. Kota Yogyakarta, Indonesia: UGM Press.
Yamauchi, H., Uchiyama, H., Ohtani, N., & Ohta, M. (2014). Unusual animal behavior preceding the 2011 earthquake off the Pacific Coast of Tohoku, Japan: A way to predict the approach of large earthquakes. Animals, 4(2), 131–145. https://doi.org/10.3390/ani4020131.
Yokoi, S., Ikeya, M., Yagi, T., & Nagai, K. (2003). Brief communication mouse circadian rhythm before the Kobe earthquake in 1995. Bioelectromagnetics, 291(December 2002), 1995–1997. https://doi.org/10.1002/bem.10108.
Zollinger, S. A., & Brumm, H. (2015). Why birds sing loud songs and why they sometimes don't. Animal Behaviour, 105, 289–295. https://doi.org/10.1016/j.anbehav.2015.03.030.
DOI:
http://dx.doi.org/10.17977/um017v26i12021p001
Refbacks
There are currently no refbacks.
Copyright (c) 2021 Jurnal Pendidikan Geografi: Kajian, Teori, dan Praktek dalam Bidang Pendidikan dan Ilmu Geografi
This work is licensed under a
Creative Commons Attribution-ShareAlike 4.0 International License
.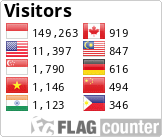 Jurnal Pendidikan Geografi: Kajian, Teori, dan Praktek dalam Bidang Pendidikan dan Ilmu Geografi is licensed under Creative Commons Attribution-ShareAlike 4.0 International License,
JPG Indexed By:
View My Stats