Environmental awareness and pro-environmental behavior: A case of university students in Malang city
Abstract
University students exhibit low commitment towards pro-environmental behavior despite the facts that they know a lot about environmental issues. The objective of this study was (1) to know the level of environmental awareness and pro-environmental behavior and (2) to find relationship between environmental awareness and pro-environmental behavior among university students in Malang city. This study used descriptive quantitative research design using survey method. Data were collected using questionnaire instrument using a 3-point modified from Liker response scale. The results revealed that majority of the students possessed higher environmental awareness and exhibited high environmentally-friendly behavior. Likewise, there existed significant relationship between environmental awareness and pro-environmental behavior amongst university students in Malang city.
Mahasiswa menunjukkan komitmen yang rendah terhadap perilaku prolingkungan meskipun mereka tahu banyak tentang masalah lingkungan. Tujuan dari penelitian ini adalah (1) untuk mengetahui tingkat kesadaran lingkungan dan perilaku pro-lingkungan dan (2) untuk menemukan hubungan antara kesadaran lingkungan dan perilaku pro-lingkungan di kalangan mahasiswa di Kota Malang. Penelitian ini menggunakan desain penelitian kuantitatif deskriptif dengan menggunakan metode survei. Data dikumpulkan dengan menggunakan instrumen kuesioner menggunakan 3 poin yang dimodifikasi dari skala respons Liker. Hasil penelitian menunjukkan bahwa mayoritas siswa memiliki kesadaran lingkungan yang lebih tinggi dan menunjukkan perilaku ramah lingkungan yang tinggi.
Keywords
environmental awareness;pro-environmental behavior; university students
References
Agarwal, S., (2018). Environmental biotechnology. New Delhi: APH Publishing Corporation.
Borchers, C., Boesch, C., Riedel, J., Guilahoux, H., Ouattara, D., & Randler, C. (2014). Environmental education in Côte D'Ivoire/West Africa: Extra-curricular primary school teaching shows positive impact on environmental knowledge and attitudes. International Journal of Science Education, 4(3), 240–259.
Carmi, N. (2013). Caring about tomorrow: Future orientation, environmental attitudes, and behaviors. Environmental Education Research, 19(4), 430-444.
Clayton, S., & Myers, G. (2015). Conservation psychology: Understanding and promoting human care for nature.
John Wiley & Sons. Enger, E. D., Smith, B. F., & Bockarie, A. T. (2000). Environmental science: A study of interrelationships (p. 434). Boston, MA: McGraw-Hill.
Hanisch, A., Rank, A., & Seeber, G. (2014). How green are European Curricula? A comparative analysis of primary school syllabi in five European countries. European Educational Research Journal, 13(6), 661-682.
Huang, T. C., Lin, W., & Yueh, H. P. (2019). How to Cultivate an Environmentally Responsible Maker? ACPS Approach to a Comprehensive Maker Education Model. International Journal of Science and Mathematics Education
Joanne, N., & Erminia, P. (2015). Educators' perceptions of bringing students to environmental consciousness through engaging outdoor experiences.
Kaffashi, S., Yacob, M. R., Clark, M. S., Radam, A., & Mamat, M. F. (2015). Exploring visitors' willingness to pay to generate revenues for managing the National Elephant Conservation Center in Malaysia. Forest Policy and Economics, 56, 9-19.
Kang, I. S., & Moon, H. J. (2014). The effects of educational activity in relation with Nuri curriculum in green growth education program for young children on their knowledge in environmental conservation, sensitivity to the natural environment, and attitudes in environmental conservation. Korean Journal of Childcare and Education, 10(5), 133-158.
Kirkels, A. F. (2012). Technology and sustainability. Technische Universiteit Eindhoven.
Lynn, P. (2014). Distinguishing dimensions of pro-environmental behavior (No. 2014- 19). ISER Working Paper Series.
Ramdas, M., & Mohamed, B. (2014). Impacts of tourism on environmental attributes, environmental literacy and willingness to pay: A conceptual and theoretical review. Procedia-Social and behavioral sciences, 144, 378-391.
DOI:
http://dx.doi.org/10.17977/um017v25i22020p161
Refbacks
There are currently no refbacks.
Copyright (c) 2020 Jurnal Pendidikan Geografi: Kajian, Teori, dan Praktek dalam Bidang Pendidikan dan Ilmu Geografi
This work is licensed under a
Creative Commons Attribution-ShareAlike 4.0 International License
.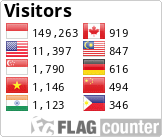 Jurnal Pendidikan Geografi: Kajian, Teori, dan Praktek dalam Bidang Pendidikan dan Ilmu Geografi is licensed under Creative Commons Attribution-ShareAlike 4.0 International License,
JPG Indexed By:
View My Stats