Tradisi Anjala Ombong masyarakat Selayar dalam perspektif geografi
Abstract
This research aims to uncover the relationship between Anjala Ombong Tradition and Selayar community in a geographical perspective. This study uses a qualitative design with a geographical approach. Data collected by using in–depth interview, field observation and documentation. Data were analyzed by using spatial approach, ecological approach, and regional complex approach. The results of this research show that the spatial perspective of Anjala Ombong tradition is the typical conditions of Sangkulu–Kulu River Estuary, that is: the water conditions including salinity (22%), current strength of water (0.071 m/s), water depth (1–1.2 m), and surface temperature (28oC) at July–August, the conditions are suitable for the environment of juku 'lompa. Ecological perspectives in the Anjala Ombong tradition appear in human interaction with the environment, namely the prohibition of fishing, catching juku lompa rollers, the installation of uhara, violations of the restrictions in tradition, and restrictions on fishing time. The regional–complex perspective of Anjala Ombong tradition can be seen by areal differentiation that creates interaction between one region and another, namely: the migration of juku  lompa from Komba Beach headed for the Sangkulu–Kulu River Estuary and the change in the time of the tradition due to external factors.
Penelitian ini bertujuan mengungkap keterkaitan antara tradisi Anjala Ombong dengan masyarakat Selayar dalam perspektif geografi yang akan diungkap melalui analisis menggunakan pendekatan keruangan, pendekatan ekologis, dan pendekatan kompleks wilayah. Pengumpulan data dilakukan dengan wawancara mendalam, observasi, dan dokumentasi. Hasil penelitian menunjukkan bahwa perspektif keruangan dalam tradisi Anjala Ombong tampak pada kekhasan ruang yang dimiliki Muara Sungai Sangkulu–kulu yaitu pada kondisi perairannya meliputi salinitas (22%), kecepatan arus (0,071 m/s), kedalaman perairan (1–1,2 m), dan suhu permukaan (28oC) yang pada bulan Juli–Agustus memiliki kondisi yang sesuai dengan lingkungan hidup juku' lompa. Perspektif ekologis dalam tradisi Anjala Ombong tampak pada interaksi manusia dengan lingkungannya yaitu larangan menangkap ikan, penangkapan juku' lompa beramai–ramai, pemasangan uhara, adanya pelanggaran terhadap larangan–larangan dalam tradisi, dan pembatasan waktu penangkapan ikan. Perspektif kompleks–wilayah dalam tradisi Anjala Ombong tampak pada adanya areal differentiation yang menciptakan interaksi antara wilayah yang satu dengan wilayah lainnya yaitu migrasi juku' lompa dari Pantai Komba menuju Muara Sungai Sangkulu–kulu dan adanya perubahan waktu pelaksanaan tradisi karena adanya faktor dari luar.
Keywords
Anjala Ombong; masyarakat Selayar; perspektif geografi
References
Ayu, S. (2017). Kinerja Dinas Kelautan dan Perikanan Kabupaten Kepulauan Selayar (studi kasus illegal fishing). Jurnal Pemikiran, Penelitian Hukum, Pendidikan Pancasila Dan Kewarganegaraan, 4(3), 157–166. Retrieved from https://ojs.unm.ac.id/tomalebbi/article/view/5577/3221.
Deliyanto, B. (2014). Manusia dan lingkungan sosial budaya. Jakarta: Universitas Terbuka.
Fitriana, E. (2018). Pola keruangan budaya Oloh Salam masyarakat Kalimantan Tengah dengan pendekatan geospasial. Jurnal Geografi, 10(1), 74–85. Retrieved from https://jurnal.unimed.ac.id/2012/index.php/geo/article/view/7988/7570
Hamzah, S. (2013). Pendidikan lingkungan: Sekelumit wawasan pengantar. Bandung: PT. Rafika Aditama.
Hastuti. (2009). Perspektif spasial dalam kajian geografi manusia. Jurnal Majalah Ilmiah Dan Informasi Kegeografian, 7(2), 31–40. Retrieved from https://journal.uny.ac.id/index.php/geomedia/article/view/19087/10566
Juliani. (2014). Pemanfaatan sumber daya perikanan berbasis kearifan lokal di wilayah pesisir Kabupaten Kutai Timur. Jurnal Teknologi Industri Pertanian, 8(2), 104–112. Retrieved from https://journal.trunojoyo.ac.id/agrointek/article/view/2011/1641
Marfai, A. (2013). Pengantar etika lingkungan dan kearifan lokal. Yogyakarta: Gadjah Mada University Press.
Moloeng, L. J. (2018). Metodologi penelitian kualitatif. Bandung: PT. Remaja Rosdakarya.
Musafiri, A., Utaya, S., & Astina, K. . (2016). Potensi kearifan lokal Suku Using sebagai sumber belajar geografi SMA di Kabupaten Banyuwangi. Jurnal Pendidikan, Teori, Penelitian Dan Pengembangan, 1(10), 2040–2046. Retrieved from http://journal.um.ac.id/index.php/jptpp/article/view/7955/3619
Oktaviani, D. (2016). Penguatan kearifan lokal sebagai landasan pengelolaan perikanan perairan umum daratan di Sumatera. Jurnal Kebijakan Perikanan Indonesia, 8(1), 1–12. Retrieved from http://ejournal-balitbang.kkp.go.id/index.php/jkpi
Putri, F., & Jonyanis. (2016). Budaya menangkap ikan di Lubuk Larangan (studi kearifan lokal pada masyarakat Desa Pangkalan Indarung Kecamatan Singingi Kabupaten Kuantan Singingi). JOM FISI, 3(1), 1–14. Retrieved from https://jom.unri.ac.id/index.php/JOMFSIP/article/view/9357/9022
Widarmanto, N. (2018). Kearifan lokal dalam pengelolaan sumber daya perikanan. Jurnal Kajian Kebudayaan, 13(1), 18–26. Retrieved from https://ejournal.undip.ac.id/index.php/sabda/article/view/20606/13982
Yunus, S. H. (2008). Konsep dan pendekatan geografi (memahami hakikat dan keilmuannya). Yogyakarta: Gadjah Mada University Press.
DOI:
http://dx.doi.org/10.17977/um017v26i12021p030
Refbacks
There are currently no refbacks.
Copyright (c) 2021 Jurnal Pendidikan Geografi: Kajian, Teori, dan Praktek dalam Bidang Pendidikan dan Ilmu Geografi
This work is licensed under a
Creative Commons Attribution-ShareAlike 4.0 International License
.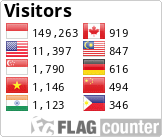 Jurnal Pendidikan Geografi: Kajian, Teori, dan Praktek dalam Bidang Pendidikan dan Ilmu Geografi is licensed under Creative Commons Attribution-ShareAlike 4.0 International License,
JPG Indexed By:
View My Stats