Potensi Laboratorium Alam Sumbermanjing Wetan dalam pembelajaran Geografi berbasis kerja lapangan (fieldwork)
Abstract
This research is a qualitative descriptive study using secondary data as the main data. Data were collected through literature studies from the results of previous research in Sumbermanjing Wetan District. The results showed that Sumbermanjing Wetan had the potential to be used as a natural laboratory in the context of geography learning. This is supported by physical conditions in the form of diverse landscape features, quite complex social and cultural conditions. This potential includes the geological and geomorphological conditions of Sumbermanjing Wetan, the geodiversity and biodiversity of Sempu Island, social and cultural conditions, disasters, and tourism. In addition, the existence of natural resources in the area can also be used as one of the studies in fieldwork. Fieldwork-based learning can increase the skills of students in making observations, identifying, experimental, doing teamwork, and applying the use of technology. Geography learning topics at Sumbermanjing Wetan include physical, social, tourism, disaster, environmental, and other areas of geography. Indeed, implementing fieldwork needs to be independent, especially in managing data. In addition, fieldwork-based learning will continue to develop in line with the convenience of technology and increasingly advanced research studies with challenges faced including security, finance, health and safety, access to the field, and damage to the surrounding area used for fieldwork due to sampling exaggerated.
Penelitian ini merupakan penelitian deskriptif kualitatif yang menggunakan data sekunder sebagai data utama. Data dikumpulkan melalui studi literatur dari hasil penelitian terdahulu di Kecamatan Sumbermanjing Wetan. Hasil penelitian menunjukkan bahwa Sumbermanjing Wetan memiliki potensi untuk dijadikan sebagai laboratorium alam dalam konteks pembelajaran geografi. Hal ini didukung oleh kondisi fisik berupa kenampakan bentang alam yang beragam, kondisi sosial dan budaya yang cukup kompleks. Potensi tersebut berupa kondisi geologi dan geomorfologi Sumbermanjing Wetan, geodiversitas dan biodiversitas Pulau Sempu, kondisi sosial dan budaya, serta pariwisata. Selain itu, keberadaan sumber daya alam yang ada di daerah tersebut juga dapat digunakan sebagai kajian dalam melakukan kerja lapangan (fieldwork). Pembelajaran berbasis kerja lapangan dapat menambah keterampilan peserta didik dalam melakukan pengamatan, identifikasi, eksperimental, melakukan kerja tim, dan menerapkan penggunaan teknologi. Topik pembelajaran geografi di Sumbermanjing Wetan dapat mencakup bidang geografi fisik, sosial, pariwisata, kebencanaan, lingkungan, maupun cakupan bidang yang lain. Dalam menerapkan kerja lapangan (fieldwork) diperlukan kemandirian peserta didik dalam mengelola data. Disamping itu, pembelajaran berbasis kerja lapangan akan terus berkembang dengan kemudahan teknologi dan kajian riset yang semakin maju dengan tantangan yang dihadapi antara lain keamanan, keuangan, kesehatan dan keselamatan, akses ke lapangan, serta rusaknya areal sekitar yang digunakan untuk kerja lapangan akibat pengambilan sampel yang berlebihan
Keywords
Laboratorium alam; kerja lapangan; pembelajaran Geografi
References
A'isyah, S. (2016). Kabut di ujung pelangi: Identitas dan potensi konflik keagamaan di sitiarjo malang. Hikmah: Journal of Islamic Studies, 12(1), 1–28.
Akbar, T., & Huda, M. (2017). Nelayan, lingkungan, dan perubahan iklim (studi terhadap kondisi sosial ekonomi pesisir. Wahana: Tridharma Perguruan Tinggi, 68(1), 27–38. https://doi.org/10.36456/wahana.v68i1.630
Al Aslami, D. A. G. (2017). Geologi daerah Klepu dan sekitarnya, Kecamatan Sumbermanjing Wetan Kabupaten Malang, Provinsi Jawa Timur. Jurnal Online Mahasiswa (JOM) Bidang Teknik Geologi, 1(1).
Ari, Y. I. (2020). Fieldwork in geography undergraduate degree programmes of Turkish Universities: Status, challenges and prospects. Journal of Geography in Higher Education, 44(2), 285–309.
Arinta, D., Utaya, S., & Astina, I. K. (2016). Implementasi pembelajaran kuliah kerja lapangan dalam peningkatan minat belajar mahasiswa Program Studi Pendidikan Geografi Universitas Negeri Malang. Jurnal Pendidikan: Teori, Penelitian, Dan Pengembangan, 1(8), 1665–1670.
Dauenhauer, P., Shields, M., Sloughter, J. M., Stewart, A. J., Lacrampe, C., Magness, E., & Mendoza, A. (2018). Improving shoestring surveys for off-grid humanitarian power projects: Kilowatts for humanity and kobocollect. IEEE Global Humanitarian Technology Conference (GHTC), 1–6.
Day, T., & Spronken‐Smith, R. (2016). Geography Education: Fieldwork and Contemporary Pedagogy. In D. Richardson, N. Castree, M. F. Goodchild, A. Kobayashi, W. Liu, & R. Marston (Eds.), International Encyclopedia of Geography: People, the Earth, Environment and Technology (pp. 1–12). John Wiley & Sons, Ltd.
Dunphy, A., & Spellman, G. (2009). Geography fieldwork, fieldwork value and learning styles. International Research in Geographical and Environmental Education, 18(1), 19–28.
Esteves, M. H., Hortas, M. J., & Mendes, L. (2018). Fieldwork in Geography education: An experience in initial teacher training program. Didáctica Geográfica, 19, 77–101.
Famelasari, R., & Priantini, Y. (2018). Ekologi politik kawasan konservasi: Kontestasi kepentingan antara masyarakat lokal, LSM, dan pemerintah. Prosiding Seminar Nasional Prodi Ilmu Pemerintah.
France, D., & Haigh, M. (2014). Fieldwork@40: Fieldwork in Geography higher education. Journal of Geography in Higher Education, 42(4), 498–514.
Gerber, R. (2000). Fieldwork in Geography: reflections, perspectives and actions. In G. K. Chuan (Ed.), Chuan, Fieldwork in Geography: Reflections, Perspectives and Actions (54th ed.). Springer Science & Business Media.
Handartoputra, A., Purwanti, F., & Hendrarto, B. (2015). Penilaian kerentanan pantai di Sendang Biru Kabupaten Malang terhadap variabel oseanografi berdasarkan metode CVI (Coastal Vulnerability Index). Journal of Management of Aquatic Resources, 4(1), 91–97.
Hofstein, A., & Lunetta, V. N. (2004). The laboratory in science education: Foundations for the twenty‐first century. Science Education, 88(1), 28–54.
Kent, M., Gilbertson, D. D., & Hunt, C. O. (1997). Fieldwork in Geography teaching: A critical review of literature and approaches. Journal of Geography in Higher Education, 21(3), 313 – 332.
Khairani, K., Rahmanelli, R., Surtani, S., & Nofrion, N. (2015). Evaluasi pelaksanaan kuliah kerja lapangan Geografi di Jurusan Geografi Fakultas Ilmu Sosial Universitas Negeri Padang. Jurnal Geografi, 4(1), 33–40.
Lunetta, N. V., Hofstein, A., & Clough, P. M. (2007). Learning and teaching in the school science laboratory: An analysis of research, theory, and practice. In Handbook of Research on Science Education (pp. 393–441). Handbook of Research on Science Education.
Martin, R., & Meliono, I. (2011). Ritual Petik Laut pada masyarakat nelayan Sendang Biru. International Conference ICSSIS.
Mulyantari, M. (2005). Kuliah Kerja Lapangan (KKL) I Geografi Sebagai Salah Satu Metode Pembelajaran Kontekstual dan Pengaruhnya Terhadap Prestasi Belajar Mahasiswa Pendidikan Geografi. Universitas Negeri Semarang.
Norsandi, D. (2018). Pengaruhnya Kuliah Kerja Lapangan (KKL) terhadap prestasi belajar mahasiswa Pendidikan Geografi Universitas PGRI Palangkaraya. Jurnal Meratas, 5.
Onn, S. Y., & Poh, P. W. (1978). Fieldwork in Geography: Importance, objectives and scope. Singapore Journal of Education, 1(1), 24–27.
Ostuni, J. (2000). The Irreplaceable Experience of Fieldwork (R. Gerber & G. K (eds.)). Springer Science + Business.
Prabawa, B. A., Cahyadi, A., Adrian, V. T., & Anggraini, D. F. (2017). Kajian genesis dan dinamika wilayah pesisir kawasan karst Pulau Sempu Kabupaten Malang Provinsi Jawa Timur. In S. Dkk (Ed.), Ekologi Lingkungan Kawasan Karst Indonesia: Menjaga Asa Kelestarian Kawasan Karst Indonesia. Deepublish.
Purnomo, H., Irwanto, A., Suseno, B., Fajar, D., Hindriatni, R., & Setyadi, P. . (2019). Keanekaragaman jenis burung di Cagar Alam Sempu. Balai Besar KSDA Jawa Timur.
Rahma, P. D., & Primasworo, R. A. (2018). Strategi pengembangan desa wisata pesisir di Desa Tambakrejo Kabupaten Malang. Reka Buana: Jurnal Ilmiah Teknik Sipil Dan Teknik Kimia, 3(1), 41–52.
Rahmadana, A. D., Wardhani, P. I., Irawan, L. Y., Maulana, E., & Sartohadi, J. (2016). Analisis multi kriteria untuk arahan fungsi kawasan di Kabupaten Malang bagian selatan. Prosiding Seminar Nasional Pengelolaan Pesisir Daerah Aliran Sungai Ke-2.
Rindyastuti, R., Abywijaya, I. K., Rahadiantoro, A., Irawanto, R., Nurfadilah, S., Siahan, A. F., & Ariyanti, E. E. (2018). Keanekaragaman tumbuhan Pulau Sempu dan ekosistemnya. LIPI Press.
Sahrina, A., Fitrianti, D., Suprianto, A., & Labib, M. A. (2020). Potential and challenges of karst water resources in Sumbermanjing Wetan District of Malang Regency. IOP Conf. Series: Earth and Environmental Science, 412.
Salaka, M. J. (2018). Eksplorasi kawasan karst Sendang Biru Kabupaten Malang. CV Komojoyo Press.
Setyabudi, I., & Pati, P. P. P. (2019). Pemukiman Tradisional di Kawasan Lanskap Pantai di Sendiki, Desa Tambakrejo Kecamatan Sumbermanjing Wetan, Kabupaten Malang. Buana Sains, 19(1), 69–80.
Setyadarpita, G., & Rofi, A. (2013). Penilaian potensi wisata kawasan cagar alam Pulau Sempu berdasarkan persepsi wisatawan. Jurnal Bumi Indonesia, 2(1).
Sherin, S., Mathew, P., Johns, F., & Abraham, J. (2018). The Feasibility of Using Remote Data Collection tools in Field Surveys. Int J Community Med Public Heal, 5, 81–85.
Steinberg, M. D., Schindler, S., & Klan, F. (2019). Software solutions for form-based, mobile data collection - a comparative evaluation. In BTW 2019–Workshopband.
Su'ud, M. M., & Bisri, M. H. (2019). Studi kapasitas masyarakat sebagai mekanisme bertahan menghadapi bencana banjir di Desa Sitiarjo, Kecamatan Sumbermanjing Wetan, Kabupaten Malang. Jurnal Teori Dan Praksis Pembelajaran IPS, 4(2), 82–89.
Sugiharyanto, S. (2007). Kelayakan wilayah Perbukitan Jiwo sebagai laboratorium alam untuk praktek kerja lapangan Geografi fisik mahasiswa jurusan Pendidikan Geografi. Geomedia: Majalah Ilmiah Dan Informasi Kegeografian, 5(1).
Suhardjono, S. (2013). Hutan mangrove cagar alam Pulau Sempu, Jawa Timur. Jurnal Biologi Indonesia, 9(1), 121–130.
Sujanto, R., Hadisantono, K., R., C., & Baharudin, R. (1992). Geologi lembar Kebumen 1: Turen – Jawa (Geologic map of the Kebumen Quadrangle – Jawa). In Penelitian dan Pengembangan Geologi, Program Studi Teknik Geologi, FT – UNPAK. Direktorat Jenderal Geologi dan Sumber Daya Mineral, Departemen Pertambangan dan Energi.
Sukistyanawati, A., Pramono, H., Suseno, B., Cahyono, H., & Andriyono, S. (2016). Inventarisasi satwa liar di cagar alam Pulau Sempu. Jurnal Ilmiah Perikanan Dan Kelautan, 8(1), 26–35.
Sulistyowati, H. (2008). Analisis status flora cagar alam Pulau Sempu, Kabupaten Malang. Jurnal Ilmu Dasar, 9(1), 78–81.
Suprianto, A., Prasetyono, D., Hardianto, A. S., Labib, M. A., Efendi, S., Hidayat, K., & Ahmad, A. A. (2017). Identifikasi hubungan kelurusan dan lorong gua karst di Kecamatan Sumbermanjing Wetan Kabupaten Malang. Prosiding Seminar Nasional Geotik 2017.
Syam, A. (2017). Arahan Pengembangan Pembelajaran Geografi Berbasis Kuliah Kerja Lapangan Mahasiswa Program Studi Pendidikan Geografi STKIP Pesisir Selatan. Jurnal Manajemen Pendidikan, 2(3), 535–544.
DOI:
http://dx.doi.org/10.17977/um017v26i22021p061
Refbacks
There are currently no refbacks.
Copyright (c) 2021 Jurnal Pendidikan Geografi: Kajian, Teori, dan Praktek dalam Bidang Pendidikan dan Ilmu Geografi
This work is licensed under a
Creative Commons Attribution-ShareAlike 4.0 International License
.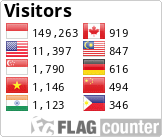 Jurnal Pendidikan Geografi: Kajian, Teori, dan Praktek dalam Bidang Pendidikan dan Ilmu Geografi is licensed under Creative Commons Attribution-ShareAlike 4.0 International License,
JPG Indexed By:
View My Stats