Building a resilient community with an ICT-Powered Local Government Unit (LGU): Community-based disaster solution
Abstract
The Philippines is the 3rd most disaster-prone country globally. While the Aurora, one of its provinces facing the Pacific, is included in 27 identified high-risk provinces in the Philippines. Due to its high disaster risk, the community and the local government craft different policies and innovations to ensure the local population's safety. This development research study harnesses the potential of ICT in providing solutions for the community. The researcher develops an ICT solution that empowers the LGU and the community, thus helping them in formulating decisions and responses. The chaos and panic caused by disasters demand quick solutions as time plays a critical role in these situations. Substantially, Information and Communication Technology appear. Through this research innovation, data sets were hyper-localized with the community in Barangay levels as the main information providers. Disaster maps and the DRR (Disaster Risk Reduction) tools were personalized based on the data supplied by the community. The study primarily targeted extending this technology to the LGU. LGUs, being the first responders, are the ones responsible for community development, play a key role in achieving society's resilience to disasters, and ensure the resilience of the municipalities under their jurisdiction. The findings of this study can be a reference for the other studies of Geography concerning increasing community resilience.
Keywords
disaster mapping; local government unit; resilience; ICT; analytics
References
Aldrich, D. P., & Meyer, M. A. (2015). Social capital and community resilience. American Behavioral Scientist, 59(2), 254–269.
Munich, R. E. (2015). Natcatservice loss events worldwide 1980–2014. Munich Reinsurance: Munich, Germany, 10.
Orencio, P. M., & Fujii, M. (2013). An index to determine vulnerability of communities in a coastal zone: A case study of Baler, Aurora, Philippines. Ambio, 42(1), 61–71.
Pfefferbaum, B., Pfefferbaum, R. L., & Van Horn, R. L. (2015). Community resilience interventions: Participatory, assessment-based, action-oriented processes. American Behavioral Scientist, 59(2), 238–253.
Scholl, H. J., Patin, B. J., & Chatfield, A. T. (2012). ICT-enabled city government field operations: Resiliency during extreme events. 2012 45th Hawaii International Conference on System Sciences, 2346–2356. IEEE.
Sharifi, A. (2016). A critical review of selected tools for assessing community resilience. Ecological Indicators, 69, 629–647.
Sharples, C. (2006). Indicative mapping of Tasmanian coastal geomorphic vulnerability to sea-level rise using GIS line map of coastal geomorphic attributes. Consultant Report to Department of Primary Industries & Water, Tasmania, 222.
Siriwardena, M., Malalgoda, C., Thayaparan, M., Amaratunga, D., & Keraminiyage, K. (2013). Disaster resilient built environment: role of lifelong learning and the implications for higher education. International Journal of Strategic Property Management, 17(2), 174–187.
DOI:
http://dx.doi.org/10.17977/um017v27i22022p219-227
Refbacks
There are currently no refbacks.
Copyright (c) 2022 Jurnal Pendidikan Geografi: Kajian, Teori, dan Praktek dalam Bidang Pendidikan dan Ilmu Geografi
This work is licensed under a
Creative Commons Attribution-ShareAlike 4.0 International License
.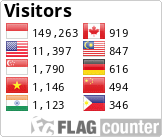 Jurnal Pendidikan Geografi: Kajian, Teori, dan Praktek dalam Bidang Pendidikan dan Ilmu Geografi is licensed under Creative Commons Attribution-ShareAlike 4.0 International License,
JPG Indexed By:
View My Stats