Analisis Konten Buku Teks Geografi SMA Menggunakan Model Beck & McKeown
Abstract
Penelitian ini bertujuan untuk mengetahui konten (isi) buku teks geografi yang digunakan oleh siswa dan guru Sekolah Menengah Atas di Kota Langsa. Penelitian ini menggunakan metode analisis deskriptif. Analisis isi (konten) menggunakan model pengembangan kognitif Beck & McKeown dengan memodifikasi menjadi enam langkah. Hasil penelitian menunjukkan bahwa sebagian besar buku teks geografi hanya mengandung fakta, data, dan konsep sehingga dapat digolongkan Not close look at  problematic discussion. Buku teks yang tidak dapat membantu siswa untuk belajar menyelesaikan masalah dan berfikir kreatif.
Keywords
Analisis Konten; Buku Teks Geografi
References
Aksa, F.I. 2016. Pengembangan Buku Teks Geografi Model Buku World Geography. Jurnal Ilmiah Ilmu Sosial, 2(1): 1-9.
BSNP. 2006. Instrumen Tahap II Penilaian Buku Teks Geografi SMA/MA. Jakarta: Departemen Pendidikan Nasional.
Diknas. 2004. Pedoman Umum Pemilihan dan Pemanfaatan Bahan Ajar. Jakarta: Ditjen Dikdasmenum.
Harley. J. 1996. Text Design, In Jonassen, David. H, Handabook of Research For Education Communication and Technology. A Profect Of The Association For Education Communication And Technology.
Harper, R. 1990. The New School Geography: A critique. Journal of Geography, 89(1), 27-30.
Husen, A.dkk. 1998. Telaah Kurikulum dan Buku Teks. Jakarta: Depdikbud.
Jitendra, Nolet, Xin, Gomez, Renouf, Iskold, & DaCosta (2001) An Analysis Of Middle School Geography Textbooks: Implication For Students With Learning Problem.
Reading & Writing Quarterly: Overcoming Learning Difficulties, 17:2, 151-173, DOI:10.1080/105735601300007606.
Kemp, J., Mellor, A., Kotter, R., & Oosthoek, J.W. 2012. Student-produced podcasts as an assessment tool: An example from geomorphology. Journal of Geography in Higher Education, 36, 117–130.
Lee, J., & Catling, S. 2016. Some perceptions and practices of English geography textbook authors. International Research in Geographical and Environmental Education, 25,50 67.
Moisey, S.D 2001. An Integrated instructional design approach for fostering lasting behavioral change. Education Technology. 41 (2): 60-62.
Purwanto, Edy.Dkk 1996. Validasi Bahan Ajar IPS-Geografi SD Berdasarkan Kurikulum 1994 di Jawa Timur. Malang: Lemlit IKIP MALANG.
Purwanto, Edy & Sumarmi. 2000. Pencitraan Bahan Ajar IPS-Geografi SLTP Yang disusun Berdasarkan Kurikulum 2004, Forum Penelitian Kependidikan, 12(2): 181-192.
Purwanto, Edy. 2001. Mengkaji Buku Pelajaran IPS Geografi Untuk Meningkatkan Kualitas Hasil Belajar. Jurnal Ilmu Pengetahuan Sosial, 34 (1): 24-25.
Purwanto, Edy. 2005. Evaluasi Proses dan Hasil dalam Pembelajaran. Malang: UM PRESS.
Shamir, A., Zion, M., Levi (2008): Peer Tutoring, Metacognitive Processes and Multimedia Problem-based Learning: The Effect of Mediation Training on Critical Thinking. Journal Science Education Technology. 17:384–398.
Sugiyono. 2010. Metode Penelitian Pendidikan (Kuantitatif, Kualitatif, dan R&D). Bandung. Penerbit Alfabeta.
Universitas Negeri Malang. 2010. Pedoman Penulisan Karya Ilmiah. Edisi Keempat. Skripsi, Tesis, Disertasi, Artikel, Makalah, Laporan Penelitian. Malang: Universitas Negeri Malang.
Waugh, D. 2000. Writing geography textbooks. In C. Fisher & T. Binns (Eds.), Issues in geography teaching (pp. 93–107). London: Routledge.
Walkington, H., Dyer, S., Solem, M., Haigh, M., & Waddington. 2017. A capabilities approach to higher education: geocapabilities and implications for geography curricula. Journal of Geography in Higher Education, DOI: 10.1080/03098265.2017.1379060.
Refbacks
There are currently no refbacks.
Copyright (c) 2018 Furqon Ishak Aksa
This work is licensed under a
Creative Commons Attribution-ShareAlike 4.0 International License
.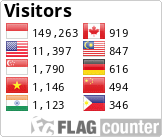 Jurnal Pendidikan Geografi: Kajian, Teori, dan Praktek dalam Bidang Pendidikan dan Ilmu Geografi is licensed under Creative Commons Attribution-ShareAlike 4.0 International License,
JPG Indexed By:
View My Stats