Pengaruh Penambahan Modal terhadap Produktivitas Pertanian Tembakau di Kabupaten Buleleng
Abstract
Penelitian ini dilaksanakan di Kabupaten Buleleng dengan tujuan untuk mengetahui pengaruh penambahan modal terhadap produktivitas tanaman tembakau. Desa Panji dan Desa Pemaron merupakan 2 desa di Kabupaten Buleleng yang memiliki lahan pertanian tanaman tembakau terbesar, dan menjadi penyuplai utama pada gudang tembakau di Kabupaten Buleleng. Di sisi lain, kedua desa ini memiliki jarak yang dekat dengan lokasi gudang tembakau. Rancangan penelitian  ini menggunakan rancangan penelitian survei analitik dengan analisis kuantitatif. Hasil penelitian menunjukkan bahwa variabel penambahan modal memiliki pengaruh yang positif dan signifikan terhadap produktivitas tembakau  di Desa Panji dan Desa Pemaron. Penambahan modal sebesar 50 juta sampai dengan 100 juta rupiah dapat menghasilkan tembakau sebanyak lebih dari 8000 Kg/Ha, sedangkan penambahan modal yang kurang dari 50  juta rupiah hanya dapat menghasilkan tembakau sebanyak 2000 Kg/Ha sampai dengan 6000 Kg/Ha. Kenyataan ini memperkuat temuan bahwa penambahan modal sangat mempengaruhi produktivitas pertanian tanaman tembakau.
Keywords
Penambahan Modal, Produktivitas Pertanian
References
Artayani, I Gusti Ayu. 2014. Analisis Perbandingan Perolehan Laba Bertani Tembakau Dengan Bertani Sayur Di Desa Pemaron, Kecamatan Buleleng, Kabupaten Buleleng Tahun 2013. Jurnal Ilmiah, 4 (1). Jurusan Pendidikan Ekonomi Universitas Pendidikan Ganesha.
Dethier, J. J. and A. Effenberger, (2011). Agriculture and Development. Policy Research Working Paper 5553. Research Support Unit, Development Economics, World Bank.
Dinas Perkebunan. 2002. Persyaratan Tumbuh Tanaman Tembakau.
Hadianto dan M. Fakhrudin. 2001. Perangkat dan Model Analisis Investasi Pasar Modal. Jakarta: Elex Media Koputindo.
IEG (2010). Growth and Productivity in Agriculture and Agribusiness: Evaluative Lessons from World Bank Group Experience. Washington, DC: World Bank.
Johnston, B. F. and J. W. Mellor, (1961). "The Role of Agriculture in Economic Development". The American Economic Review, 51 (4): 566 – 593.
Mozumdar, L. 2012. Agricultural Productivity and Food Security in the Developing World. Journal Agriculture Economics, 35 (1&2): 53 – 69.
Soewartoyo, dan Lumbantoruan. 1992. Ensiklopedia Ekonomi, Bisnis, dan Manajemen. Jilid I. Jakarta: PT Citra.
Wiebe, K.(2003). Linking Land Quality, Agricultural Productivity, and Food Security. Resource Economics Division, Economic Research Service, U.S. Department of Agriculture. Agricultural Economic Report No. 823.
Yang, Dennis Tao and Xiaodong Zhu (2013). Modernization of Agriculture and Long-Term Growth. Journal of Monetary Economics, 60: 367 – 382.
Refbacks
There are currently no refbacks.
Copyright (c) 2018 Putu Indra Christiawan, Naftah Yulia Azizah
This work is licensed under a
Creative Commons Attribution-ShareAlike 4.0 International License
.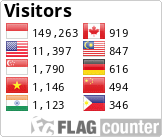 Jurnal Pendidikan Geografi: Kajian, Teori, dan Praktek dalam Bidang Pendidikan dan Ilmu Geografi is licensed under Creative Commons Attribution-ShareAlike 4.0 International License,
JPG Indexed By:
View My Stats