Pengembangan Suplemen Bahan Ajar Digital Pada Mata Pelajaran Geografi Dengan Topik Bahasan Sumber Daya Laut Berbasis Kearifan Lokal
Abstract
Indonesia memiliki potensi sumber daya laut yang tinggi. Potensi tersebut menyebabkan pemanfaatan berlebih, yang berdampak pada degradasi sumber daya laut. Oleh karena itu, perlu adanya cara pemanfaatan sumber daya laut yang ramah lingkungan. Kearifan lokal Jaring Tarik merupakan cara tradisional nelayan untuk menangkap ikan. Sayangnya, masyarakat nelayan beralih menggunakan teknologi modern. Cara seperti ini dikhawatrikan mengancam keberlanjutan sumber daya laut. Oleh karenanya, perlu adanya usaha untuk melestarikan kearifan lokal Jaring Tarik. Pelestarian kearifan lokal yang mampu menjaga keberlanjutan sumber daya laut dapat dilakukan melalui dunia pendidikan dengan suplemen bahan ajar yang memuat kearifan dalam pemanfaatan suber daya laut.
Keywords
suplemen bahan ajar, geografi, sumber daya laut, kearifan lokal
References
BIG. 2015. Paradigma Geomaritim: Strategi Mewujudkan Indonesia Sebagai Poros Maritim Dunia dalam Perspektif Geografi. Jakarta: Badan Informasi Geospasial.
Borg, Walter R & Gall, Meredith Damien. 1983. Educational Research: An Introduction. New York: Longman.
Chanda, dkk. 2000. Teaching and Learning Materials Analysis and Development in Basic Education, (Online), (http://unesdoc.unesco.org/images/0013/001320/132019eo.pdf), diakses 30 April 2016.
Darsono, Prapto. 1999. Pemanfaatan Sumber Daya Laut dan Implikasinya Bagi Masyarakat Nelayan.Oseana.24 (4): 1-9.
http://www.oseanografi.lipi.go.id/sites/default/files/oseana_xxiv(4)1-9.pdf. Diakses 30 September 2014.
Effendi, Agus. 2011. Implementasi Kearifan Lingkungan Dalam Budaya Masyarakat Adat Kampung Kuta Sebagai Sumber Pembelajaran IPS. Jurnal Penelitian Pendidikan,(Online), (jurnal.upi.edu/file/17-AGUS_EFFENDI_-edit.pdf_), diakses 20 April 2016.
Kementerian Kelautan dan Perikanan. 2016. Laporan Kinerja Kementerian Kelautan dan Perikanan Tahun 2015, (Online), (http://kkp.go.id/wp-content/uploads/2016/07/Lkj-KKP-2015.pdf), diakses 5 Desember 2016.
Kongprasertamorn, K. 2007. Lokal wisdom, Environmental Protection and Community Development: the Clam farmers in Tambon bangkhunsai, Phetchaburi province, Thailand. MANUSYA: Journal of Humanities, (Online),10 (1), (http://www.manusya.journals.chula.ac.th/files/essay/Lokal%20Wisdom%20Environmental%20Protection.pdf), diakses 25 Februari 2015.
Kusumastanto, Tridoyo. 2003. Pengembangan Sumberdaya Kelautan dalam Memperkokoh Perekonomian Nasional Abad 21. Makalah disajikan pada Seminar Pembangunan Hukum Nasional di Kuta, Bali, 14-18 Juli 2003. Dalam lfip database. http://www.lfip.org/english/pdf/bali-seminar/pemberdayaan%20sumber%20daya%20kelautan%20-%20tridiyo%20kusumastanto.pdf. Diakses 30 September 2014.
Lestari, Ika. 2013. Pengembangan Bahan Ajar Berbasis Kompetensi. Padang:Akademia Permata.
Nwike, M.C, dan Chatrine, O 2013. Effect of Use of Instructional Materials on Students Cognitive Achievment in Agriculture Science.Journal of Education and Social Research, (Online), 3(5): 103-107, (http://www.mcser.org/journal/index.php/jesr/article/viewFile/645/667), diakses 30 April 2016.
Okobia, E.O. 2011. Availability and Teachers' Use of Instructional Materials and Resources in the Implementation of Social Studies in Junior. Review of European Studies, (Online), 3(2): 90-97, (http://www.ccsenet.org/journal/index.php/res/article/viewFile/13475/9408), diakses 30 April 2016.
Solihin dkk. 2013. Laut Indonesia dalam Krisis, (Online), (http://www.greenpeace.org/seasia/id/PageFiles/533771/Laut%20Indonesia%20dalam%20Krisis.pdf), diakses 25 Februari 2015
Stanis, Stefanus. 2005. Pengelolaan Sumber Daya Pesisir dan Laut Melalui Pemberdayaan Kearifan Lokal di Kabupaten Lembata Propinsi Nusa Tenggara Timur. Tesis. Semarang: PPs Universitas Diponegoro, (Online), (http://eprints.undip.ac.id/17932/1/STEFANUS_STANIS.pdf), Diakses 25 Februari 2015.
Sumarmi. 2012. Pengembangan Wilayah Berkelanjutan. Malang: Aditya Media Publishing.
Sumarmi. 2014. Pengelolaan Lingkungan Berbasis Kearifan Lokal. Malang: Aditya Media Publishing.
Zulkarnain, Agustar, Asdi dan Febriamansyah, Rudi. 2008. Kearifan Lokal Dalam Pemanfaatan dan Pelestarian Sumberdaya Pesisir (Studi Kasus di Desa Panglima Raja Kecamatan Concong Kabupaten Indragiri Hilir Propinsi Riau), Jurnal Agribisnis Kerakyatan, (Online), 1(1):69-84, (http://iep.pasca.unand.ac.id/id/images/download/Jurnal/JAK/artikel%20full/Kearifan%20Lokal%20Dalam%20Pemanfaatan%20dan%20Pelestarian%20Sumberdaya%20Pesisir.pdf), diakses 20 Februari 2015.
Refbacks
There are currently no refbacks.
Copyright (c) 2018 Ika Handayani Nurani Putri, Ulfatush Sholihah, Era Megawati Handayani, Sumarmi Sumarmi
This work is licensed under a
Creative Commons Attribution-ShareAlike 4.0 International License
.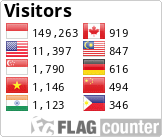 Jurnal Pendidikan Geografi: Kajian, Teori, dan Praktek dalam Bidang Pendidikan dan Ilmu Geografi is licensed under Creative Commons Attribution-ShareAlike 4.0 International License,
JPG Indexed By:
View My Stats