Pengaruh Pembelajaran Outdoor terhadap Pengetahuan, dan Sikap Pelestarian Lingkungan Mahasiswa S1 Pendidikan Geografi Universitas Kanjuruhan Malang
Abstract
Abstrak: Tujuan penelitian ini yaitu: (1) Mengetahui pengaruh pembelajaran outdoor terhadap pengetahuan pelestarian lingkungan mahasiswa S1 Pendidikan Geografi Universitas Kanjuruhan Malang, (2) Mengetahui pengaruh pembelajaran outdoor terhadap sikap pelestarian lingkungan mahasiswa S1 Pendidikan Geografi Universitas Kanjuruhan Malang. Penelitian ini termasuk jenis eksperimen yang bertujuan untuk menilai pengaruh suatu perlakuan pendidikan terhadap sikap dan perilaku mahasiswa sebelum dan sesudah diberi tindakan. Berdasarkan uji homogenitas kemampuan kognitif peserta didik didapatkan kesimpulan bahwa karakter subjek penelitian homogen jadi penentuan kelas eksperimen dan kontrol dapat dilakukan dengan metode random. Hasil penelitian ini menunjukkan penerapan pembelajaran outdoor dapat meningkatkan pengetahuan mereka tentang pelestarian lingkungan, hal ini ditandai dengan hasil uji beda antara kelas kontrol dan eksperimen yang menunjukkan beda yang signifikan. Tetapi itu tidak menjamin sikap mereka akan konsisten dengan pengetahuan yang dimiliki. Jadi untuk menyikapi hal tersebut, dalam upaya meningkatkan pemahaman peserta didik pada pelestarian lingkungan maka tidak hanya dari satu pihak saja, yaitu lembaga pendidikan. Perlu adanya kerja sama dengan pihak-pihak yang langsung berhubungan dengan mereka, seperti orang tua, masyarakat sekitar, sampai petugas kebersihan agar terbentuk masyarakat yang paham terhadap pelestarian lingkungan demi terwujudnya pembangunan yang berkelanjutan.
Kata Kunci:   Pengetahuan, Sikap, Perilaku dan Pembelajaran Outdoor
References
American Institutes for Research. 2005. Effects of Outdoor Education
Programs for Children in California. Sacramento: The California Department of Education.
Amir, M. Taufik. 2010. Inovasi Pendidikan Melalui Problem Based
Learning. Jakarta: Kencana.
Amini, Risda. 2010. PengembanganPembelajaran Pendidikan Lingkungan Berbasis Outdoor untuk Calon Guru Sekolah Dasar. Disertasi Pascasarjana UPI. Bandung (tidak diterbitkan).
Bandura, A. 1977. Social Learning Theory. New Yersey: Prince-Hall.
Davidoff, L. L. 1991. Psikologi: Suatu Pengantar. (Jilid 1, Edisi kedua).
Jakarta: Erlangga.
Dumouchel. 2003.New Horizons for Learning. (Online). Diakses di
http://www.newhorizons.org pada tanggal 18 Maret 2015.
Hess-Quimbita, G. & Michael, P. (1996).Assessing an Environmental
Attitude Development Program: Factors Influencing the Environmental Attitude of College Students. Paper presented at the American Education Research Association Conference. April 8-12, 1996. New York.
HSF (Hanns Seidel Foundation). (2008).Pendidikan Lingkungan
Hidup Terkait dengan Air danTanah. (online). Diakses di www.hsfindo.org pada tanggal tanggal 18 Maret 2015.
Johnson. David. W dan Johnson. Frank.P. 1991. Joining Together: group theory and group skills. Prentice Hall
Herry, F. 2009. Outdoor Learning antara Hobi dan Bisnis. (Online). Diakses di http://pioda.multiply.com/reviews pada tanggal 18 Maret 2015
Krynock, K. and L. Robb. (1999).Problem Solved: How to Coach
Cognition. Educational Leadership,57(3), p. 29-32.
Mastrilli, T. (2005). Environmental Education in Pennsylavania's Elementary Teacher Preparation Program:The Fight to Legitimize
EE.Journal of Environmental Education. September 2005. New
England.
Powers, A. L. (2004). Teacher Preparation for Environmental Education:Faculty Perspective on the Infusion of Environmental Education into Preservice Methods Courses. Journal of Environmental
Education, Spring Vol.35 No.3. p.3-11.
Rampengan, M. J. (2005). Pemahaman Konsep-konsep Dasar Ekologi dan Sikap Masyarakat Petani Sekitar Danau Tondano Terhadap
Kerusakan Lingkungan serta Implikasinya pada Pendidikan IPA. Studi Kasus di Kecamatan Eris Kabupaten Minahasa. Disertasi Pascasarjana
UPI. Bandung (tidakditerbitkan)
Anthropocentric Attitudes Toward theEnvironment. Journal of Environment Psychology. p. 14-33.
Tumisem. 2007. Program Pendidikan Lingkungan Berbasis Ekologi
Perairan sebagai Upaya Pengembangan Literasi Lingkungan dan
Konservasi melalui Kepramukaan di SD. Disertasi Pascasarjana UPI.
Bandung (tidak diterbitkan)
DOI:
http://dx.doi.org/10.17977/jpg.v20i1.284
Refbacks
There are currently no refbacks.
Copyright (c) 2017 Jurnal Pendidikan Geografi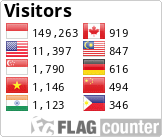 Jurnal Pendidikan Geografi: Kajian, Teori, dan Praktek dalam Bidang Pendidikan dan Ilmu Geografi is licensed under Creative Commons Attribution-ShareAlike 4.0 International License,
JPG Indexed By:
View My Stats