Characteristics of Desaster Pre Liminary Research in Developing Learning Model of Environment Education Based on The Disaster in Efford to Grow an Cultural Anticipatory
Abstract
Abstract: East Java is one of the region which have a potential natural disaster. There are four potential disasters occurred in the region, namely floods, landslides, volcanic eruptions, and earthquakes. The disasterproved tohave a negative impacton people's lives. The impact ofthe disasteris due toa lack of anticipation for communities to disasters that occurin there environment. To preventlong-term impact, environmental Education(EE) has astrategic roletoempower students to have anticipatory culture. This study is a preliminary research which aims to identify the characteristics of the disaster which occurred in East Java and conditions of disaster education at school. Object of the study is floods of the Konto river and landslides at Pujon district and the Kelud eruption at Pandansari Ngantang. This research uses descriptive analysis by reducing data, looking for determinant variables, and takes a conclusion. The research results show the natural disaster in research consists of flooding, landslide, and eruption. Floods and landslides occur on rainy season around December-January. Catastrophic floods caused by heavy rainfall and deforestation. While, the eruption depends on each mountain. The cause of disaster is material of eruption. Status of environment education at school is diverse, there is a region by mandatory local content-based with monolithic approach, and there is also region by elective with integrative approach. Load of the EE subjects is 2 credits, while the school is not compulsory be integrated to the main subject. In this study also be foud tha teachers do not have a EE model for anticipate natural disaster.
Keywords: disaster characteristic, Environment education, Cultureanticipatory
References
Anonimous, 2012.Pencemaran Air Sungai Parah diakses melalui
(http://www.seputarindonesia.com/edisicetak/content/view/477505/ diakses tanggal 22 September 2012).
Amirudin, A. 2010. Prinsip-Prinsip membangunan Berkelanjutan. Bahan Ajar. UM: Tidak diterbitkan.
Anonimous, 2012. Antisipatif dengan Edukasi Bencana. (0nline)
(http Rickyblogspot diakses 7 April 2013).
Anonimous. 2012. Langkah-Langkah Menghadapi Gempa Bumi
dan Bencana Alam. (online),(http://idid.facebook.com/permalink.php?story_fbid=390988940914601&id=389562314390597, diakses 8 April 2012).
Arsyad, dkk. 2008. Penyelamatan Tanah,Air, dan Lingkungan. Jakarta:
Penerbit Obor
Fadli, A. 2005. Pendidikan Lingkungan Hidup: Bukan untuk pembebanan baru bagi siswa, (online, (http://timpakul.web.id/plh-4.html diakses 3 Maret 2013.
Gugus Tugas Pengarusutamaan Pengurangan Risiko Bencana dalam Sistem Pendidikan Nasional. 2010. Strategi Pengarusutamaan
Pengurangan Risiko Bencana di Sekolah. Jakarta: Kementrian Pendidikan Nasional.
Izadakh, Yasamin O dan Marla A Petal.2008. Concept Note: Formal and Informal Education for Disaster Risk Reduction. (Online).
(www.riskred.org/ activities/addredislamabad.pdf).Kompas, Banjir meluas dan tebar ancaman. 13 April 2013 p.1.
Muslim, Dicky, dkk. 2011. Activities on Disaster Awareness Education in the School around Geological Hazard Prone Areas in Indonesia.
(Online). (www5.ocn.ne.jp/~nei/images/disaster1.pdf). Diakses tanggal 29 Mei 2013.
Rusilowati, A, dkk. 2012. Mitigasi Bencana Alam Berbasis Pembelajaran Bervisi Science Environment Technology and Society. Jurnal Pendidikan Fisika Indonesia. 8:51-60. (Online)(journal.unnes.ac.id/nju/index/php/JPFI/article/view/1994). Diakses tanggal 27 Mei 2013.
Saukah, Ali. 2000. Pedoman Penulisan Karya Ilmiah. Malang: UM.
DOI:
http://dx.doi.org/10.17977/jpg.v20i1.286
Refbacks
There are currently no refbacks.
Copyright (c) 2017 Jurnal Pendidikan Geografi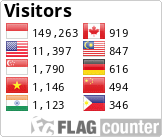 Jurnal Pendidikan Geografi: Kajian, Teori, dan Praktek dalam Bidang Pendidikan dan Ilmu Geografi is licensed under Creative Commons Attribution-ShareAlike 4.0 International License,
JPG Indexed By:
View My Stats