Urban sprawl and residential segregation in Western Suburb Area of Malang City, East Java, Indonesia
Abstract
Aim of this study is to analyze the impact of urban sprawl on the residential and social segregation in western suburb area of Malang city. This research has been conducted through combination of qualitative and quantitative methods or mixed method. Quantitative method was undertook to identify the urban sprawl. Urban sprawl was detected by means of urban morphology approach. Quantitative method was represented by: (1) the processing of Normalized Difference Built up Index to identify the built-up area growth and (2) delineation of residential area types taken from Google earth and ground checking at the study location. Qualitative method was done by using the hermeneutical phenomenology to investigate the social segregation. Research's result showed that there is urban sprawl, impacting on spatial structure changes. Spatial structure has been shown by the alteration of non-built-up areas into planned settlements separated from village, further referred as residential segregation. Residential segregation shows that there is social segregation between the migrants and natives in western suburb area of Malang city. This research concludes that the urban sprawl has implication on shifting process of rural to suburb area. However, the shifting process does not impact on systematic social dimension between the migrants and natives.
Tujuan dari penelitian ini adalah untuk menganalisis dampak perambahan perkotaan terhadap segregasi permukiman dan sosial di daerah pinggiran barat kota Malang. Penelitian ini dilakukan melalui kombinasi metode kualitatif dan kuantitatif atau metode campuran. Metode kuantitatif dilakukan untuk mengidentifikasi perambahan kota yang terdeteksi melalui pendekatan morfologi perkotaan. Metode kuantitatif diwakili oleh: (1) pengolahan "Normalised Difference Built Up Index" untuk mengidentifikasi pertumbuhan area terbangun dan (2) penggambaran tipe-tipe area pemukiman yang diambil melalui Google EarthTM dan cek lapangan di lokasi penelitian. Metode kualitatif dilakukan dengan menggunakan fenomenologi hermeneutis untuk menyelidiki segregasi sosial. Hasil penelitian menunjukkan bahwa ada perambahan perkotaan (urban sprawl) berdampak pada perubahan struktur spasial. Struktur tata ruang telah ditunjukkan oleh perubahan daerah-daerah yang tidak dibangun menjadi pemukiman-pemukiman terencana yang terpisah dari desa, yang selanjutnya disebut sebagai segregasi perumahan. Pemisahan pemukiman menunjukkan bahwa ada segregasi sosial antara pendatang dan penduduk asli di daerah pinggiran barat kota Malang.  Penelitian ini menyimpulkan bahwa urban sprawl memiliki implikasi pada pergeseran proses dari pedesaan ke daerah pinggiran kota, akan tetapi  proses pergeseran tidak berdampak pada dimensi sosial yang sistematis antara pendatang dengan penduduk asli.
Keywords
urban sprawl, residential segregation, social segregation, spatial expression, migran-native
References
Ambarwati, L., Verhaeghe, R., Pel, A.J. & van Arem, B. (2014). Controlling urban sprawl with integrated approach of space-transport development strategies. Procedia-Social and Behavioral Sciences, 138, pp.679-694
Blair, J.P. (1991). Urban and regional economics. Irwin. p394-449
Broitman, D. & Koomen, E. (2015). Residential density change: Densification and urban expansion. Computers, environment and urban systems, 54, pp.32-46.
Brueckner, K.J & Largey, G.A. (2008). Social interaction and urban sprawl. Journal of Urban Economics 64 (2008) 18–34
Colby, C.C. (2009). Centrifugal and centripetal forces in urban geography. Annals of The Association of Amerian Geographers. Volume XXIII March,1933 No.1. Retrieved from https://www.tandfonline.com/
Daldjoeni, N. (2003). Geografi kota dan desa. Bandung: P.T Alumni Publisher.
Doling, J. and Ronald, R. (ed) (2014). Housing East Asia: socioeconomic and demographic challenges. New York: Springer.
Fatchan,A. (2013). Metode penelitian kualitatif: 10 langkah penelitian kualitatif pendekatan konstruksi dan fenomenologi. Malang: State University of Malang Publisher (UM Press).
Fellmann, J.D., Getis, A. & Getis, J. (2007). Human geography: Landscapes of human activities. New York: Mc Graw Hill.
Giyarsih, R.S. (2011). Gejala urban sprawl sebagai pemicu proses densifikasi permukiman di daerah pinggiran kota (Urban Fringe Area) kasus pinggiran Kota Yogyakarta. Area and City Planning Journal 12.1 (2011):39-45.
Glaeser, E.L & Kahn, M.E. (2003). Sprawl and urban growth. NBER Working Paper Series No 9733. National Bureau of Economic Research. 1050 Massachusetts Avenue. Cambridge.
Kinanti, A.S. & Handayani, W. (2013). Perkembangan wilayah peri urban: Kajian pada perspekstif demografi dan kondisi sosial ekonomi masyarakat (studi kasus: kecamatan depok, kabupaten sleman). Teknik PWK (Perencanaan Wilayah Kota), 2(3), pp.727-737
K'Akumu, O.A. & Olima, W.H. (2007). The dynamics and implications of residential segregation in Nairobi. Habitat International, 31(1), pp.87-99.
Knox, P.L., Marston, S.A. & Imort, M. (2016). Human geography: Places and regions in global context. Pearson.
Liu, Y., Dijst, M. & Geertman, S. (2015). Residential segregation and well-being inequality over time: A study on the local and migrant elderly people in Shanghai. Cities, 49, pp.1-13.
Mohammadi, J., Zarabi, A. & Mobaraki, O. (2012). Urban sprawl Pattern and Effective Factors on Them: The Case of Urmia City,Iran. Journal of Urban & Regional Analysis, 4(1).
Mubarak, FA. (2004). Urban growth boundary policy and residential suburbanization: Riyadh, Saudi Arabia. Habitat International 28 (2004) 567-591.
Musterd,S & Ostendorf, W. (2005). Urban Segregation and The Welfare State: Inequality and Exclusion in Western Cities. Routledge 270 Madison Ave. New York
Nechyba, T.J. & Walsh, R.P. (2004). Urban sprawl. Journal of economic perspectives, 18(4), pp.177-200.
Nurmandi, A. (2014). Manajemen perkotaan: Teori organisasi, perencanaan, perumahan, pelayanan dan transportasi mewujudkan kota cerdas. Yogyakarta: Jusuf Kalla School of Goverment Universitas Muhammadiyah Yogyakarta (JKSG UMY).
Overman, H. (2006). In Brief Urban Sprawl. Centre Piece Summer 2006. Economic Geography at LSE and An Associate in CEP's Globalisation Programme.
Purba, J. (2005). Pengelolaan Lingkungan Sosial. Jakarta: Yayasan Obor Indonesia.
Robinson, D. (2007). Living parallel lives? Housing, residential segregation and community cohesion in England. Neighbourhood Renewal & Housing Markets: Community Engagement in the US & UK, pp.163-185.
Rubenstein, J.M. & Bacon, R.S. (2008). The cultural landscape: An introduction to human geography. Upper Saddle River, New Jersey: Prentice Hall.
Santoso, E.B. (2009). Menuju Penataan Ruang Perkotaan yang Berkelanjutan, Berdaya saing, dan Berotonomi. Proceeding of National Seminar of Area and City Planning ITS, Surabaya , 29 October 2009
Sastrawati, I & Santoso,L. (2011). Perubahan guna lahan di Suburban Selatan Kota Makasar. Group of Architecture Engineering. Volume 5 December 2011
Maru, R., Ikhsan, M. & Laka, B.M. (2016). Perubahan penggunaan lahan Kota Makassar tahun 1990-2010. Sainsmat, 4(2).
Serlin, M.A., & Umilia, E. (2013). Faktor-faktor yang memepengaruhi masyarakat dalam memilih lokasi hunian peri urban surabaya di Sidoarjo. Engineering Journal Vol. 2 No. 2
Soetomo, S. (2002). Strategi desain ruang sub-urban dalam menopang pembangunan yang berkelanjutan.
Setioko, B. (2013). Konsep kearifan lokal pada pertumbuhan kawasan pinggiran kota. ModuL, 13(2).
Suman, A. (2012). Desain penelitian: Pendekatan kualitatif. Malang: Insan Muamalah Publisher (Anggota of IKAPI).
Surya, B. (2011). Perubahan fisik spasial kawasan pinggiran memarginalkan komunitas lokal (Kasus Kota Baru Metro Tanjung Bunga, Makassar). Tataloka, 13(4), pp.212-223
Vaz, E. & Nijkamp, P. (2015). Gravitational forces in the spatial impacts of urban sprawl: An investigation of the region of Veneto, Italy. Habitat International, 45, pp.99-105.
Wagistina, S., Suman, A., Antariksa, A. & Yanuwiadi, B. (2017). Urban Sprawl, suburbanization, and informal sector in Western Suburb Area-Malang City-East Java. WACANA, Jurnal Sosial dan Humaniora, 20(2).
Yunus, H.S. (2012). Struktur Tata Ruang Kota. Yogyakarta: Pustaka Pelajar.
Yunus, H.S. (2010). Dinamika wilayah peri-urban: Determinan masa depan kota. Yogyakarta: Pustaka Pelajar.
DOI:
http://dx.doi.org/10.17977/um017v24i12019p11-24
Refbacks
There are currently no refbacks.
Copyright (c) 2018 Satti Wagistina, Antariksa Antariksa
This work is licensed under a
Creative Commons Attribution-ShareAlike 4.0 International License
.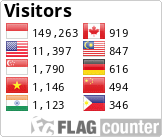 Jurnal Pendidikan Geografi: Kajian, Teori, dan Praktek dalam Bidang Pendidikan dan Ilmu Geografi is licensed under Creative Commons Attribution-ShareAlike 4.0 International License,
JPG Indexed By:
View My Stats