Analisis Indeks Vegetasi Menggunakan Citra ALOS AVNIR-2 untuk Estimasi Kebutuhan Ruang Terbuka Hijau Berdasarkan Kebutuhan Oksigen di Kota Denpasar, Provinsi Bali
Abstract
Penelitian ini bertujuan untuk: (1) mengkaji kemampuan Citra ALOS AVNIR-2 dalam mengekstraksi kerapatan vegetasi yang digunakan untuk pemetaan  RTH  dalam rangka estimasi ketersediaan oksigen; (2) menentukan kebutuhan RTH berdasarkan kebutuhan oksigen. Analisis regresi linier digunakan untuk mengetahui hubungan antara indeks vegetasi dengan kerapatan vegetasi sebagai pertimbangan dalam menentukan ketersediaan RTH. Kebutuhan oksigen dihitung menggunakan Metode Gerrarkis dengan mempertimbangkan variabel jumlah penduduk, kendaraan bermotor dan industri. Hasil penelitian menunjukkan bahwa  transformasi NDVI menghasilkan  nilai korelasi (R2) lebih baik yaitu  sebesar 0,8371 dibandingkan SAVI sebesar 0,8368. Hasil uji akurasi pemetaan kerapatan vegetasi menunjukkan tingkat ketelitian sebesar 85% dan diperoleh luasan RTH mencapai 4.872,34 Ha atau sebesar 38,92%. Khusus untuk RTH vegetasi tegakan dengan luas 1.868,35 Ha sehingga estimasi ketersediaan oksigen mencapai 945.852,19 kg/hari sedangkan kebutuhan oksigen penduduk, kendaraan bermotor, dan industri adalah 1.442.680,62 kg/hari. Kebutuhan oksigen tersebut agar terpenuhi, dibutuhkan RTH dengan luas 2.894,71 Ha sehingga diperlukan penambahan RTH sebesar 981,36 Ha.
Keywords
Indeks Vegetasi, Citra ALOS AVNIR-2, Kebutuhan RTH.
References
Anderson, James R., Ernest E. Hardy, John T. Roach and Richard E. Witmer. 1976. A Land Use and Land Cover Classification System for Use Remote Sensor Data. Washington: United Sta-tes Government Printing Office.
As-Syakur, A.R. 2011. Analisis Indeks Vegetasi Menggunakan Citra ALOS AVNIR-2 dan Sistem Informasi Geografis (SIG) untuk Evaluasi Tata Ruang Kota Denpasar. Jurnal Bumi Lestari. 9, 1-11.
Badan Pusat Statistik. 2014. Provinsi Bali dalam Angka. Bali: BPS.
Danoedoro, P. 2012. Pengantar Penginderaan Jauh Digital. Yogyakarta: C.V Andi Offset.
Fandeli, C., Muhhamad. 2009. Prinsip-Prinsip Dasar Mengkonservasi Lansekap. Yogyakarta: Gadjah Mada University Press.
Fandeli, C., K. Mukhlison. 2004. Perhutanan Kota. Yogyakarta: Fakultas Kehutanan Universitas Gadjah Mada.
Gasman. 1984. Peranan Tumbuh-Tumbuhan dalam Menghasilkan Oksigen. Jakarta: Harian A.B.
Jensen, J.R. 1996. Introductory Image Processing: A Remote Sensing Perspective. New Jersey-USA: Prentice Hall.
______. 2000. Remote sensing of The Environmental Earth Resource Perspective. New Jersey-USA: Prentice Hall.
Liu, Ting. 2012. Mapping Vegetation in an Urban Area with Stratified Clasification and Multiple Endmember Spectral Mixture Analysis. Remote Sensing of Environment. 133, 251-264.
McCoy, R.M. 2005. Field Methods in Remote Sensing. New York: The Guildford Press.
Rashed, T. and C. Jurgens. 2010. Remote Sensing of urban and Suburban Areas. Remote Sensing and Digital Image Processing. 10, 56.
Suharyadi, R. 2011. Interpretasi Hibrida Citra Satelit Resolusi Spasial Menengah untuk Kajian Densifikasi Bangunan Daerah Perkotaan di Daerah Perkotaan Yogyakarta. Disertasi. Yogyakarta: Fakultas Geografi, Universitas Gadjah Mada.
Sutanto. 2012. Metode Penelitian Penginderaan Jauh. Yogyakarta: Ombak
Wisesa, S.P.C. 1988. Studi Pengembangan Hutan Kota di Wilayah Kotamadya Bogor. Jurusan Konserva sio Sumber Daya Hutan, Fakultas Kehutanan, Institut Pertanian Bogor.
Yuan, Fei. 2007. Comparison of Impervious Surface Area and Normalized Difference Vegetation Index as Indicators of Surface Urban Heat Island Effects in Landsat Imagery. Remote Sensing of Environment. 106, 375-386.
Peraturan Pemerintah Dalam Negeri No. 1 Tahun 2007 Tentang Penataan Ruang Terbuka Hijau Kawasan Perkotaan.
Peraturan Menteri Pekerjaan Umum No. 05/PRT/M/2008 Tentang Pedoman Penyediaan dan Pemanfaatan Ruang Terbuka Hijau di Kawasan Perkotaan.
Undang-Undang Republik Indonesia No. 26 Tahun 2007 Tentang Penataan Ruang.
DOI:
http://dx.doi.org/10.17977/jpg.v22i1.380
Refbacks
There are currently no refbacks.
Copyright (c) 2017 Jurnal Pendidikan Geografi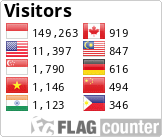 Jurnal Pendidikan Geografi: Kajian, Teori, dan Praktek dalam Bidang Pendidikan dan Ilmu Geografi is licensed under Creative Commons Attribution-ShareAlike 4.0 International License,
JPG Indexed By:
View My Stats