Understanding gender, marital status & education as internal migration factors in developing countries
Abstract
This study aims to understand the factors of gender, marital status, and education in influencing the decision to carry out internal migration in developing countries, especially Indonesia between 2007-2015. This study uses secondary data in 2007 and 2015 from the Indonesian Family Life Survey (IFLS). After cleaning and adjusting data, a total of 4,642 respondents who met the requirements were used as research samples. The results showed that individual characteristics of sex and marital status had a significant effect on the tendency for internal migration in Indonesia. as well as education determines a person perform the migration. Further research requires a deeper review of social and economic factors.
Penelitian ini bertujuan untuk memahami faktor gender, status perkawinan, dan pendidikan dalam mempengaruhi keputusan melakukan migrasi internal di negara berkembang, khususnya Indonesia antara tahun 2007-2015. Penelitian ini menggunakan data sekunder tahun 2007 dan 2015 dari Indonesian Family Life Survey (IFLS). Setelah dilakukan pembersihan dan penyesuaian data, sebanyak 4.642 responden yang memenuhi syarat dijadikan sebagai sampel penelitian. Hasil penelitian menunjukkan bahwa faktor karakteristik individu yang terdiri dari jenis kelamin dan status perkawinan berpengaruh signifikan terhadap kecenderungan melakukan migrasi internal di Indonesia. Begitu juga pendidikan menentukan seseorang melakukan migrasi. Penelitian selanjutnya diperlukan tinjauan lebih dalam mengenai faktor sosial dan ekonomi.
Keywords
Internal Migration; Gender; Marital Status; Education
References
Adika, I. N. (2008). Pengembangan wilayah kabupaten Sidoarjo sebagai wilayah pinggiran kota metropolitan Surabaya dan mobilitas penduduk. Piramida, 4(1), 1–19.
Ai, C., & Norton, E. C. (2003). Interaction terms in logit and probit models. Economics Letters, 80(1), 123–129.
Bodvarsson, Ö. B., & Van den Berg, H. (2009). Immigration policy in the United States. In The Economics of Immigration (pp. 349–377). Springer.
Campbell, R. M., Brue, S. L., & Macpherson, D. A. (1995). Contemporary labour economics. Singapore: McGraw-Hill, Inc.
Dustmann, C., & Weiss, Y. (2007). Return migration: theory and empirical evidence from the UK. British Journal of Industrial Relations, 45(2), 236–256.
Erlando, A., & Pratomo, D. S. (2013). Analisis terhadap migran sirkuler di kota Surabaya. Jurnal Ilmiah Mahasiswa FEB, 2(1).
Fitri, K. S. (2018). Analisis migrasi internal tenaga kerja Indonesia tahun 2007-2014. Retrieved from http://repository.unej.ac.id/handle/123456789/88834
Gilbert, A., & Gugler, J. (1996). Urbanisasi dan kemiskinan di dunia ketiga. Yogyakarta: Tiara Wacana Yogya.
Listyarini, N., & Poerwono, D. (2011). Faktor-faktor individual yang mempengaruhi minat migrasi tenaga kerja wanita kabupaten Pati Jawa Tengah ke Malaysia (studi kasus: kecamatan Sukolilo kecamatan Gabus dan kecamatan Tayu). Universitas Diponegoro.
Mantra, I. B. (1985). Pengantar studi demografi. Yogyakarta: Nur Cahaya.
Nisar, A., Akram, A., & Hussain, H. (2013). Determinants of internal migration in Pakistan. The Journal of Commerce, 5(3), 32.
Pangaribuan, K. H., & Handayani, H. R. (2013). Analisis pengaruh pendapatan, pendidikan, pekerjaan daerah asal, jumlah tanggungan, dan status perkawinan terhadap keputusan migrasi sirkuler ke kota Semarang (studi kasus: kec. Tembalang dan kec. Pedurungan). Fakultas Ekonomika dan Bisnis.
Park, J., & Kim, K. (2015). Internal migration of the elderly in Korea: a multilevel logit analysis of their migration decision. Asian and Pacific Migration Journal, 24(2), 187–212.
Pratiwi, Q. (2012). Analisis migrasi penduduk ke kecamatan Simpang Kiri kota Subulussalam provinsi Aceh tahun 2005-2009. Univeritas Negeri Medan.
Purnomo, D. (2009). Fenomena migrasi tenaga kerja dan perannya bagi pembangunan daerah asal: studi empiris di kabupaten Wonogiri. Jurnal Ekonomi Pembangunan: Kajian Masalah Ekonomi Dan Pembangunan, 10(1), 84–102.
Putranto, T. T., & Kusuma, K. I. (2009). Permasalahan airtanah pada daerah urban. Teknik, 30(1), 48–56.
Rahmawati, T. M., & Wiratno, W. (2010). Faktor yang mempengaruhi minat tenaga kerja untuk bekerja ke luar negeri (kasus: kota Semarang). Universitas Diponegoro.
Ravenstein, E. G. (1885). The laws of migration. Journal of the Statistical Society of London, 48(2), 167–235.
Rustariyuni, S. D. (2013). Faktor-faktor yang mempengaruhi minat migran melakukan mobilitas non permanen ke kota Denpasar. Piramida, 9(2).
Santoso, I. (2010). Faktor-faktor yang mempengaruhi keputusan bermigrasi penduduk Indonesia antara tahun 2000–2007 (analisis data ifls 2000 dan 2007). Jakarta: Universitas Indonesia.
Suhaeni, H. (2010). Tipologi kawasan perumahan dengan kepadatan penduduk tinggi dan penanganannya. Jurnal Permukiman, 5(3), 116–123.
Susetyo, H. (2008). Menuju paradigma keamanan komprehensif berperspektif keamanan manusia dalam kebijakan keamanan nasional Indonesia. Lex Jurnalica, 6(1).
Swasono, S.-E., & Singarimbun, M. (1985). Sepuluh windhu transmigrasi di Indonesia, 1905-1985. Penerbit Universitas Indonesia.
Todaro, M. P. (1992). Pengembangan ekonomi di dunia 3. Kajian Migrasi Internal Di Negara Sedang Berkembang. Pusat Penelitian Kependudukan, UGM, Yogyakarta.
Wajdi, M. N. (2010). Migrasi antarpulau di Indonesia: analisis model skedul migrasi dan model gravitasi hybrida. Inter-Islands Migration in Indonesia: Model Migration Schedules and Hybrid Gravity Model Analysis]. Master's Thesis, University of Indonesia.
White, B., & Naafs, S. (2012). Generasi antara: refleksi tentang studi pemuda Indonesia. Jurnal Studi Pemuda, 1(2), 89–106.
Widodo, S. (2011). Strategi nafkah berkelanjutan bagi rumah tangga miskin di daerah Pesisir. Hubs-Asia, 10(1).
Wilonoyudho, S. (2009). Kesenjangan dalam pembangunan kewilayahan. In Forum Geografi (Vol. 23, pp. 167–180).
Yuliarmi, N. N., & Riyasa, P. (2007). Analisis faktor-faktor yang mempengaruhi kepuasan pelanggan terhadap pelayanan PDAM kota Denpasar. Buletin Studi Ekonomi, 12(1), 9–28.
DOI:
http://dx.doi.org/10.17977/um017v24i22019p098
Refbacks
There are currently no refbacks.
Copyright (c) 2019 Jurnal Pendidikan Geografi: Kajian, Teori, dan Praktek dalam Bidang Pendidikan dan Ilmu Geografi
This work is licensed under a
Creative Commons Attribution-ShareAlike 4.0 International License
.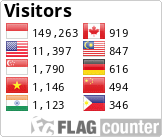 Jurnal Pendidikan Geografi: Kajian, Teori, dan Praktek dalam Bidang Pendidikan dan Ilmu Geografi is licensed under Creative Commons Attribution-ShareAlike 4.0 International License,
JPG Indexed By:
View My Stats