Analisis potensi rawan bencana tanah longsor di Kecamatan Jabung, Kabupaten Malang
Abstract
This research was desinged as geological and geomorphological survey. Research located at Nongkojajar in RBI Map and definately in Kecamatan Jabung. The research was conducted to identifying landslide prone area in kecamatan Jabung, Kabupaten Malang. Scoring was earned as calculation methods for classifying landslide prone area. Based on geomorphological, research area divided into four classification; fluvio-plain; mountain footplain; mountain footslope, mountain topslope. The research shows three different landslide susteptible area area i.e. low susteptible area 41.64%; moderate susceptible area 45.93%, and high susceptible area 12.43%.
Penelitian ini merupakan penelitian survey geologi dan geomorfologi. Lokasi penelitian terletak pada lembar RBI Nongkojajar dengan wilayah kajian di Kecamatan Jabung. Penelitian dilakukan untuk mengidentifikasi daerah rawan bencana longsor di Kecamatan Jabung, Kabupaten Malang. Metode skoring digunakan sebagai acuan perhitungan tingkat rawan bencana longsor. Berdasarkan aspek geomorfologi, daerah penelitian dikelompokkan menjadi empat satuan bentuklahan yaitu: dataran fluvial, kaki gunungapi, lereng bawah, dan lereng atas. Hasil penelitian menunjukkan tingkat rawan bencana longsor di wilayah kajian yaitu: kerawanan rendah 41,64%,  kerawanan sedang 45,93%, dan kerawanan tinggi 12,43%.
Keywords
survei geologi dan geomorfologi; pemetaan; kerawanan longsor; Jabung
References
Energi Sumber Daya Mineral. (2005). Pengenalan Gerakan Tanah, Vulcanological Survey of Indonesia. Energi Sumber Daya Mineral. Jakarta.
Eviana, I., (2017). Pemetaan Daerah Rawan Longsor Lahan Di Kecamatan Dau, Kabupaten
Malang Dengan Menggunakan Pendekatan Geomorfologi. Jpig (Jurnal Pendidikan dan Ilmu Geografi), 2(2), Pp.127-134.
Hardiyatmo, C. (2012). Tanah Longsor & Erosi Kejadian dan Penangannya. Yogyakarta: Gadjah Mada University Press.
Hartini, R., Redana, I.W. & Wardana, I.G.N. (2014). Kerawanan Longsor Lereng Jalan
Studi Kasus Ruas Jalan Sukasada–Candi Kuning. Jurnal Spektran.
Muta'ali, L. (2013). Penataan Ruang Wilayah dan Kota. Yogyakarta: Gadjah Mada University Press.
Nugroho, J. (2009). Pemetaan Daerah Rawan Longsor Dengan Penginderaan Jauh dan Sistem Informasi Geografis (Studi Kasus Hutan Lindung Kabupaten Mojokerto). Jurnal FTSP Institut Teknologi Sepuluh September.
Pedoman Penataan Ruang Kawasan Rawan Longsor Peraturan Menteri Pekerjaan Umum
Nomor 22 Tahun 2007.
Setiawan, B., & Sudarto, Putra, A.N. (2017). Pemetaan Daerah Rawan Longsor Di Kecamatan Pujon Menggunakan Metode Analytic Hierarchy Process (AHP). Jurnal Tanah dan Sumberdaya Lahan Vol 4 No 2: 567-576, 2017 e-ISSN:2549-9793.
Suripin. (2002). Pelestarian Sumberdaya Tanah dan Air. Yogyakarta: Penerbit Andi
Undang-Undang Nomor 24 Tahun 2007 tentang Penanggulangan Bencana.
Verstappen, H. Th. (1970). Introduction to the ITC – System of Geomorphology Survey. KNAG Geografisch Tijdschrift, Vol 4.
Verstappen, H. Th. (1983). Applied Geomorphology: Geomorphological Surveys For Environmental Development. Amsterdam: Elsevier.
Widiastutik, R. & Buchori, I. (2018). Kajian Risiko Bencana Longsor Kecamatan Loano Kabupaten Purworejo. Jurnal Pembangunan Wilayah dan Kota, Vol 14 (2), 109 – 122.
DOI:
http://dx.doi.org/10.17977/um017v25i22020p102
Refbacks
There are currently no refbacks.
Copyright (c) 2020 Jurnal Pendidikan Geografi: Kajian, Teori, dan Praktek dalam Bidang Pendidikan dan Ilmu Geografi
This work is licensed under a
Creative Commons Attribution-ShareAlike 4.0 International License
.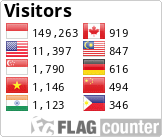 Jurnal Pendidikan Geografi: Kajian, Teori, dan Praktek dalam Bidang Pendidikan dan Ilmu Geografi is licensed under Creative Commons Attribution-ShareAlike 4.0 International License,
JPG Indexed By:
View My Stats