Potensi timbulan sampah plastik di Kota Yogyakarta tahun 2035
Abstract
Plastic waste is the center of attention in urban areas in Indonesia, one of them is Yogyakarta. Yogyakarta is the largest wastes supplier in Piyungan's Integrated Waste Management Site. Piyungan decreases every year. Therefore, Yogyakarta Government must take appropriate steps to obtain waste generation in the future. This research aims to make a projection of plastic waste generation in Yogyakarta in 2035. The result of this research reveal the generation of plastic waste in Yogyakarta in 2035 based on the standard capacity of each region and pattern of the distribution of plastic waste in each block of the desired area.
Sampah plastik merupakan permasalahan yang menjadi pusat perhatian di perkotaan di Indonesia, salah satunya adalah Kota Yogyakarta. Kota Yogyakarta merupakan pemasok sampah terbesar di TPST (Tempat Pengelolaan Sampah Terpadu) Piyungan. Padahal kemampuan daya tampung TPST Piyungan semakin berkurang setiap tahunnya. Oleh karena itu, Pemerintah Kota Yogyakarta harus mengambil langkah yang tepat untuk mengantisipasi tingginya timbulan sampah di masa mendatang. Penelitian ini bertujuan untuk memproyeksikan timbulan sampah plastik di Kota Yogyakarta pada tahun 2035. Pendekatan yang digunakan adalah pendekatan kuantitatif dengan data berupa populasi 45 blok kawasan perencanaan Kota Yogyakarta. Hasil dari penelitian ini menunjukkan perkiraan timbulan sampah plastik di Kota Yogyakarta tahun 2035 berdasarkan standar daya tampung orang setiap kawasan serta pola sebaran timbulan sampah plastik pada masing-masing blok kawasan yang bersangkutan
Keywords
sampah; plastik; timbulan; potensi
References
Adedibu, A. E. (1985). Spatial pattern of solid waste generation of Ilorin-Nigeria. Kluwer Academic Publishers.
Basriyanta. (2007). Memanen sampah. Yogyakarta: Kanisius. Bhattacharya, R. S. (2018). Challenges and opportunities plastic waste management in India. The Energy and Resources Institute (TERI) Analysis.
Ekawati. (2016). Mengkritisi kebijakan penanganan kantong plastik di Indonesia. Policy Brief: Pusat Penelitian dan Pengembangan Sosial, Ekonomi, Kebijakan, dan Perubahan Iklim, 6. Jambeck, J.,
Geyer, R., Wileox, C., Siegler, T., Perryman, M., Andrady, A., et al. (2015). Plastic waste inputs from land into the ocean. Science, 768.
Kristina, H., Christiani, A., & Joniliong, E. (2018). The prospects and challenges of plastics bottle waste recycling in Indonesia. Paper presented at the meeting of the 2nd International Conference on Eco Engineering Development 2018, Alam Sutera Tangerang, Indonesia.
Mulasari, A., Husodo, A. H., & N., M. (2016). Analisis situasi permasalahan sampah Kota Yogyakarta dan kebijakan penanggulangannya. Jurnal Kesehatan Masyarakat.
Perda. (2015). Paten no. peraturan Daerah Kota Yogyakarta nomor 1 tahun 2015 tentang rencana detail tata ruang Kota Yogyakarta tahun 2015-2035. Yogyakarta.
Perpres. (2017). Paten no. Peraturan Presiden RI nomor 97 tahun 2017 tentang kebijakan dan strategis nasional pengelolaan sampah rumah tangga dan sampah sejenis sampah rumah tangga. Indonesia.
PU. (2006). Paten no. Peraturan Menteri PU nomor 21/PRT/M/2006 tentang pengelolaan sampah. Indonesia.
Rybova, K., & Burcin, B. (2017). Does spatial dimension matter in waste generation? Case study of Czech municipalities. Paper presented at the meeting of the International Conference Current Trends in Public Sector Research. Czech: researchgate.net.
SNI. (2004). Paten no. SNI 03-1733-2004 tentang tata cara perencanaan lingkungan perumahan di perkotaan. Indonesia.
SNI. (2008). Paten No. SNI-3242-2008 tentang pengelolaan sampah di permukiman. Indonesia.
Surono, U. B., & Ismanto. (2016). Pengelolaan sampah plastik jenis PP, PET, dan PE menjadi bahan bakar minyak dan karakteristiknya. Jurnal Mekanika dan Sistem Termal, 32-37
DOI:
http://dx.doi.org/10.17977/um017v25i22020p088
Refbacks
There are currently no refbacks.
Copyright (c) 2020 Jurnal Pendidikan Geografi: Kajian, Teori, dan Praktek dalam Bidang Pendidikan dan Ilmu Geografi
This work is licensed under a
Creative Commons Attribution-ShareAlike 4.0 International License
.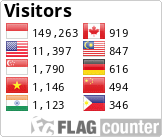 Jurnal Pendidikan Geografi: Kajian, Teori, dan Praktek dalam Bidang Pendidikan dan Ilmu Geografi is licensed under Creative Commons Attribution-ShareAlike 4.0 International License,
JPG Indexed By:
View My Stats