Analysis of carrying capacity and land suitability in Kenjeran Coastal Area, Bulak Sub Regency, Surabaya City, East Java
Abstract
Beach tourism is an activity that spends time while feeling the beauty of the atmosphere around the beach. The city of Surabaya has one of the most attractive natural tourist destinations and is located on the Kenjeran beach in the eastern part of Surabaya. This beach tourism activity can cause water pollution due to waste from tourism activities and can cause damage to coastal ecosystems. The purpose of this study is to determine the value of the Land Suitability Index and the value of carrying capacity of the land as a beach tourism. The method used in this study was to measure water quality, measure grain size of sediments, observe criteria for objects and tourist attractions, and conduct interviews. The results of this study indicate that of the 4.3 hectares of the Kenjeran Beach Conformity Index value for the coastal tourism category a score of 47.8% was obtained in the S3 category. This category includes having more limiting factors to fulfill. These factors will have an impact on reducing tourist satisfaction for tourism. This Kenjeran Beach has a maximum value with regional carrying capacity that can accommodate 2,580 people per day for 9 hours.
Wisata pantai adalah kegiatan yang menghabiskan waktu sambil merasakan keindahan suasana di sekitar pantai. Kota Surabaya memiliki salah satu tujuan wisata alam yang paling menarik dan terletak di pantai Kenjeran di bagian timur Surabaya. Kegiatan wisata pantai ini dapat menyebabkan pencemaran air karena limbah dari kegiatan pariwisata dan dapat menyebabkan kerusakan ekosistem pesisir. Tujuan dari penelitian ini adalah untuk menentukan nilai Indeks Kesesuaian Lahan dan nilai daya dukung lahan sebagai wisata pantai. Metode yang digunakan dalam penelitian ini adalah mengukur kualitas air, mengukur ukuran butiran sedimen, mengamati kriteria untuk objek dan tempat wisata, dan melakukan wawancara. Hasil penelitian ini menunjukkan bahwa dari 4,3 hektar nilai Indeks Kesesuaian Pantai Kenjeran untuk kategori pariwisata pantai diperoleh skor 47,8% dalam kategori S3. Kategori ini termasuk memiliki faktor pembatas yang lebih banyak untuk dipenuhi. Faktor-faktor ini akan berdampak pada pengurangan kepuasan wisatawan untuk pariwisata. Pantai Kenjeran ini memiliki nilai maksimum dengan daya dukung regional yang dapat menampung 2.580 orang per hari selama 9 jam
Keywords
Land Suitability Index, Area Carrying Capacity, Coastal Tourism
References
Abdillah, D. (2016) Pengembangan wisata bahari di Pesisir Pantai Teluk Lampung. Jurnal Destinasi Kepariwisataan Indonesia. Penelitian dan Pengembangan Kebijakan Kepariwisataan Kementerian Pariwisata. Vol. 1 No. 1 Juni 2016. halaman: 45 – 66.
Arief, D. (1984). Pengukuran salinitas air laut dan peranannya dalam ilmu kelautan. Jurnal Oseana. Pusat Penelitian Oseanografi, Lembaga Oseanologi Nasioanal – LIPI, Jakarta. Volume IX, No. 1: 3-10, 1984.
Djokosetiyanto D, A Sunarma, Widanarni. (2006). Changes of ammonia, nitrite and nitrate at recirculation system of red tilapia (oreochromis sp.) rearing. Jurnal Akuakultur Indonesia. Departemen Budidaya Perairan, Fakultas Perikanan dan Ilmu Kelautan, Institut Pertanian Bogor. 5(1): 13-20 (2006).
Farihah, Rizqi Ayu, Lilik Maslukah, Sri Yulina Wulandari. (2016). Sebaran horizontal konsentrasi nitrat dan nitrate pada kondisi pasang surut di Perairan Cilauteureun, Garut. Jurnal Oseanografi. Jurusan Oseanografi, Fakultas Perikanan dan Ilmu Kelautan, Universitas Diponegoro. Semarang. Volume 5, Nomor 3, Tahun 2016, Halaman 378 – 389.
Guntur, Adi Tiya Yanuar, Syarifah Hikmah Julinda Sari, Andi Kurniawan. (2017). Analisis kualitas perairan berdasarkan metode indeks pencemaran di Pesisir Timur Kota Surabaya. Jurnal Ilmu – Ilmu Perairan, Pesisir dan Perikanan. Fakultas Perikanan dan Ilmu Kelautan, Universitas Brawijaya, Malang. P-ISSN: 2089-7790 e-ISSN:2502-6194.
Nalim. (2015). Analisis komparatif dan eksploratif terhadap kualitas pelayanan bank syariah dan bank konvensional di Kota Pekalongan. Jurnal Hukum Islam. Jurusan Syariah dan Ekonomi Islam. STAIN Pekalongan. Volume 13 Nomor 2, Desember 2015 Halaman 108 – 118.
Nugroho Yusuf S, Sasongko P. Hadi, T. Haryono. (2009). Penggunaan software spss untuk analisis faktor daya beli listrik pada sektor rumah tangga dengan metode regresi linier berganda (Studi kasus Kota Salatiga). Jurnal Simposium Nasional. Jurusan Teknik Informatika. Fakultas Komunikasi dan Informatika. Universitas Muhammadiyah Surakarta. ISSN 1412 – 9612.
Nurizzati, Yetti. (2016). Efektivitas pembelajaran statistik dasar dengan metode pratikum berbasis pendidikan karakteristik islami di Jurusan Tadris Ilmu Pengetahuan Sosial IAIN Syekh Nurjati Cirebon. Journal For Islamic Social Sciences. Jurusan Tadris Matematika. Institut Agama Islam Negeri Syekh Nurjati. Cirebon. Vol. 1 Edisi 1. ISSN: 2527-7588.
Purnawan Syahrul, Ichsan Setiawan, Marwatim. (2012). Studi sebaran sedimen berdasarkan ukuran butir di Perairan Kuala Gigieng, Kabupaten Aceh Besar, Provinsi Aceh. Jurnal ilmu-ilmu perairan, pesisir, perikanan. Depik, 1(1): 31-36. April 2012. ISSN 2089 – 7790.
Sukandar, Citra Satrya Utama Dewi, Muliawati Handayani. (2017). Analisis kesesuaian lahan dan daya dukung lingkungan bagi pengembangan wisata bahari di Pulau Bawean, Kabupaten Gresik, Provinsi Jawa Timur. Jurnal Ilmu – Ilmu Perairan, Pesisir dan Perikanan. Fakultas Perikanan dan Ilmu Kelautan, Universitas Brawijaya. ISSN: 2089-7790, e-ISSN: 2502-6194.
Susana, Tjutju. (2009). Tingkat keasaman (pH) dan oksigen terlarut sebagai indikator kualitas perairan sekitar muara Sungai Cisadane. Jurnal Teknologi Lingkungan. Staf Peneliti, Pusat Penelitian Oseanografi – LIPI, Ancol Timur, Jakarta. Vol. 5, No. 2, Desember 2009, ISSN: 1829-6572 pp. 33-39.
Souhoka Jemmy, Simon I Patty. (2013). Hydrology monitoring in conjunction with the condition of coral reefs in the waters of Talise Island, North Sulawesi. Jurnal Ilmiah Platax. Vol. 1:(3), Mei 2013 ISSN: 2302-3589.
Wijayanto Dian, Dian Minggus Nuriasih, Muhammad Nurul Huda. (2013). strategies of mangrove tourism development in Nusa Penida Marine protected area. Jurnal Saintek Perikanan.Vol. 8, No. 2, 2013:25-32.
Refbacks
There are currently no refbacks.
Copyright (c) 2019 Jurnal Pendidikan Geografi: Kajian, Teori, dan Praktek dalam Bidang Pendidikan dan Ilmu Geografi
This work is licensed under a
Creative Commons Attribution-ShareAlike 4.0 International License
.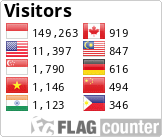 Jurnal Pendidikan Geografi: Kajian, Teori, dan Praktek dalam Bidang Pendidikan dan Ilmu Geografi is licensed under Creative Commons Attribution-ShareAlike 4.0 International License,
JPG Indexed By:
View My Stats