Pengembangan potensi wilayah di Kecamatan Samigaluh, Kabupaten Kulon Progo melalui pemetaan potensi wisata berbasis partisipasi
Abstract
This research aims is to develop potential of the area in Samigaluh District through community-based tourism potential mapping. This research used qualitative and quantitative methods in analysis, with primary data as the main data. GIS method used to create a map of tourism potential by rules for the making of participatory maps. Information extraction techniques are carried out by interviewing stakeholders and key persons. Triangulation techniques are also used in this research to check information by identifying the data obtained whether it is fixed or shows changes/variations in different conditions and situations. Mapping results of participatory based tourism potential found 29 tourism potentials in Samigaluh District. Constraints and difficulties encountered in this participatory mapping are when key persons and communities are involved in determining the relative location of tourism potential on the map. Overall, development of tourism potential through the role of community needs to be encouraged. This is to help local communities recognize the potential of their regions while making them as informants and actors of regional development through tourism.
Tujuan penelitian ini adalah mengembangkan potensi wilayah di Kecamatan Samigaluh melalui pemetaan potensi wisata berbasis partisipasi masyarakat. Penelitian ini menggunakan metode penelitian kualitatif dan kuantitatif dengan data primer sebagai data utama. Metode GIS digunakan dalam membuat peta potensi wisata sesuai kaidah penyusunan peta partisipatif (participatory mapping). Teknik penggalian informasi dilakukan dengan wawancara stakeholder dan tokoh kunci (key person). Teknik triangulasi juga digunakan dalam penelitian ini untuk pengecekan informasi dengan melakukan identifikasi data yang diperoleh apakah bersifat tetap atau menunjukkan perubahan/variasi pada kondisi dan situasi berbeda. Hasil pemetaan potensi wisata berbasis partisipatif ditemukan 29 potensi wisata di Kecamatan Samigaluh. Kendala dan kesulitan yang ditemui dalam pemetaan partisipatif ini adalah saat key person dan masyarakat dilibatkan dalam menentukan lokasi relatif dari potensi wisata di peta. Secara keseluruhan, pengembangan potensi wisata melalui peran masyarakat perlu diupayakan. Hal ini untuk membantu masyarakat lokal mengenali potensi daerahnya sekaligus menjadikan warga sebagai informan dan aktor bagi pengembangan wilayah melalui pariwisata.
Keywords
pengembangan wilayah; berkelanjutan; karakteristik lokal; pemetaan partisipatif; wisata
References
Angelkova, T., Koteski, C., Jakovlev, Z., & Mitrevska, E. (2012). Sustainability and Competit Iveness Of Tourism. Procedia - Social and Behavioral Sciences, 44, 221 –227. http://doi.org/10.1016/j.sbspro.2012.05.023.
Ariyati, T. dan Wahyono, H. (2016). Peta Perwilayahan Pariwisata Berdasarkan Sub Titik Pusat di Kabupaten Semarang. Jurnal Teknik PWK (Perencanaan Wilayah Kota), 5(2), 127–139.
Aulia, A. N., & Hakim, L. (2017). Pengembangan Potensi Ekowisata Sungai Pekalen Atas, Desa Ranu Gedang, Kecamatan Tiris, Kabupaten Probolinggo. Jurnal Wilayah Dan Lingkungan, 5(3), 156. https://doi.org/10.14710/jwl.5.3.156-167
Brown, G. & Kytta, M. (2018). Key issues and priorities in participatory mapping: Toward integration or increased specialization?. Journal Applied Geography, 95. 1–8.https://doi.org/10.1016/j.apgeog.2018.04.002
Brown, G., Sanders, S., & Reed, P. (2018). Using public Participatory Mapping to Inform General Land Use Planning and Zoning. Journal Landscape and Urban Planning, 177, 64–74. https://doi.org/10.1016/j.landurbplan.2018.04.011
BPS Kabupaten Kulon Progo. (2017). Kecamatan Samigalu dalam Angka 2017. BPS Kabupaten Kulon Progo.
Eadens, L. M., Jacobson, S. K., Stein, T. V., Confer, J. J., Gape, L. & Sweeting, M. (2009) Stakeholder Mapping for Recreation Planning of a Bahamian National Park. Journal Society and Natural Resources, 22(2), 111-127. https://doi.org/10.1080/08941920802191696
Elwizan, F. S., & Damayanti, M. (2017). Pemanfaatan Sumber Daya Alam pada Kawasan Rawan Bencana untuk Kegiatan Pariwisata. Jurnal Wilayah Dan Lingkungan, 5(2), 71. https://doi.org/10.14710/jwl.5.2.71-82
Fitari, Y., & Ma'rif, S. (2017). Manfaat Pengembangan Desa Wisata Wonolopo terhadap Kondisi Sosial, Ekonomi dan Lingkungan Masyarakat Lokal. Jurnal Wilayah Dan Lingkungan, 5(1), 29. https://doi.org/10.14710/jwl.5.1.29-44
Fitriana, E. (2018). Strategi pengembangan taman wisata kum kum sebagai wisata edukasi di kota palangkaraya. Jurnal Pendidikan Geografi: Kajian, Teori, Dan Praktek Dalam Bidang Pendidikan Dan Ilmu Geografi, 23(2), 94–106. https://doi.org/10.17977/um017v23i22018p094
Hapsari, H. dan Cahyono, A. B. (2014). Pemetaan Partisipatif Potensi Desa (Studi Kasus: Desa Selopatak, Kecamatan Trawas, Kabupaten Mojokerto). Jurnal GEOID, 10(1), 99-103.
Kadir W., dan Jusuf, Y. (2008). Tingkat Partisipasi Masyarakat dalam Kegiatan Social Forestry di KHDTK Borisallo. Jurnal Info Sosial Ekonomi, 8(3), 189-200.
Kurniawan, A., & Sadali, M. I. (2015). Keistimewaan Lingkungan Daerah Istimewa Yogyakarta. Yogyakarta: Gadjah Mada University Press.
Mustofa, F. C., Aditya, T., & Sutanta, H. (2018). Sistem Informasi Pertanahan Partisipatif Untuk Pemetaan Bidang Tanah. Jurnal Majalah Ilmiah Globë, 20(1), 01-12. http://dx.doi.org/10.24895/MIG.2018.20-1.702
Purwanto, P., Astina, I. K., & Suharto, Y. (2015). Pemanfaatan Sistem Informasi Geografi untuk Pemodelan Spasial Pengembangan Wisata Pantai di Kabupaten Tulungagung. Jurnal Pendidikan Geografi. https://doi.org/10.17977/um017v20i12015p012
Rahayu, S. (2015). Pengembangan Pariwisata Berbasis Masyarakat (Community Based Tourism) di Kabupaten Kulon Progo, DIY. Yogyakarta.
Sadali, M. I. (2017). Pemetaan Potensi Wilayah Desa Tileng, Kecamatan Girisubo, Kabupaten Gunungkidul, Daerah Istimewa Yogyakarta. https://doi.org/10.31227/OSF.IO/XQ32D
Sadali, M. I. (2018). Keragaman Persepsi Stakeholders Terhadap Rencana Relokasi Pedagang Pasar Ngasem Di Kawasan Wisata Tamansari Yogyakarta. https://doi.org/10.31227/OSF.IO/UD3MV
Saputra, E., Sadali, M. I., & Jauhari, A. (2013). An analysis of tourist carbon footprint in Indonesia-The case of D.I. Yogyakarta.
Susilowati, M. H. D. (2017). Potensi Wilayah Sekitar Pantai Selatan Kabupaten Lebak Provinsi Banten Dalam Mendukung Pembangunan Pariwisata. Jurnal Pendidikan Geografi, 22(2), 105-112.
Wilopo, K. K. dan Hakim, L. (2017). Strategi Pengembangan Destinasi Pariwisata Budaya (Studi Kasus pada Kawasan Situs Trowulan sebagai Pariwisata Budaya Unggulan di Kabupaten Mojokerto). Jurnal Administrasi dan Bisnis, 21(1), 56-65.
Yuwono, J. S. E. dan Winardi, U. N. (2018). Menggalang Potensi Budaya Lokal dengan Pemetaan Partisipatif. Jurnal Bakti Budaya, 1(1), 3-17.
DOI:
http://dx.doi.org/10.17977/um017v25i12020p001
Refbacks
There are currently no refbacks.
Copyright (c) 2020 Jurnal Pendidikan Geografi: Kajian, Teori, dan Praktek dalam Bidang Pendidikan dan Ilmu Geografi
This work is licensed under a
Creative Commons Attribution-ShareAlike 4.0 International License
.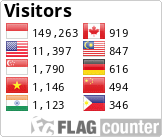 Jurnal Pendidikan Geografi: Kajian, Teori, dan Praktek dalam Bidang Pendidikan dan Ilmu Geografi is licensed under Creative Commons Attribution-ShareAlike 4.0 International License,
JPG Indexed By:
View My Stats