STUDI PEMAHAMAN KONSEP DAN MISKONSEPSI CALON GURU KIMIA PADA TOPIK STRUKTUR ATOM MENGGUNAKAN INSTRUMEN DIAGNOSTIK TWO-TIER
Abstract
Abstrak
Penelitian ini bertujuan untuk memperoleh informasi mengenai pemahaman konsep dan miskonsepsi yang dialami calon guru kimia pada topik struktur atom. Rancangan penelitian yang digunakan adalah rancangan penelitian deskriptif dengan subjek 82 mahasiswa tahun ketiga program studi pendidikan kimia UM pada tahun ajaran 2013/2014. Subjek penelitian mendapatkan materi struktur atom pada matakuliah Kimia Dasar yang diberikan ketika semester 1 dan semester 2. Instrumen yang digunakan berupa instrumen diagnostik two-tier yang terdiri dari 28 butir soal valid. Hasil analisis menunjukkan pemahaman mahasiswa pada topik struktur atom tergolong cukup dan ditemukan 6 miskonsepsi yang dialami mahasiswa.
Kata kunci: pemahaman konsep, miskonsepsi, struktur atom, instrumen diagnostik two-tier
Abstract
The aim of this research were to get information about conceptual understanding and misconceptions of pre-service chemistry teachers in atomic structure. This research was descriptive research with subject 82 third grade chemistry education program students of UM in 2013/2014 period. Subjects have learned atomic structure when attend General Chemistry course given in first and second semester. The instrument was two-tier diagnostic instrument consisting 28 valid items. Analysis result shows that most of students  understanding in atomic structure is enough and 6 misconceptions are found.
Keywords
: conceptual understanding, misconception, atomic structure, two-tier diagnostic instrument
Refbacks
There are currently no refbacks.
Copyright (c) 2019 Nike Kusuma Wardhani, Prayitno Prayitno, Fauziatul Fajaroh
This work is licensed under a
Creative Commons Attribution-ShareAlike 4.0 International License
.
J-PEK (Jurnal Pembelajaran Kimia)
Issued by Chemistry Department, Fakultas MIPA Universitas Negeri Malang.
INDEXING: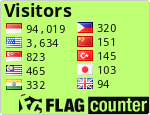 <
J-PEK (Jurnal Pembelajaran Kimia) is licensed under a Creative Commons Attribution-ShareAlike 4.0 International License