The Development of E-UKBM Schmeckt Lecker for Class XI Students of SMA Negeri 8 Malang
Abstract
This development research aims to develop a product in the form of E-UKBM for learning German with the theme Essen und Trinken from the sub-theme of Alltagsleben. This material is studied by high school class XI students in the even semester. This research and development model uses the ADDIE model (analysis, design, development, implementation, and evaluation) by Dick and Carey. Based on the results of validation by material experts and media experts, this E-UKBM product is suitable for use.
Keywords
e-learning, Teaching and Learning Activity Unit, German Learning
References
Batubara, Hamdan Husein. 2018. Pembelajaran Berbasis WEB dengan Moodle Versi 3.4. Yogyakarta: Deepublish.
Biech, Elaine. 2014. The Difinitive Reference for Training and Development. USA: ASTD Press.
Brown, Sally. 2012. Resource Based Learning. New York: Routlegde.
Dewi, Annisa Anita. 2019. Buku Sebagai Bahan Ajar Sebuah Perbandingan Buku Teks Bahasa Inggris di Indonesia dan di Thailand. Sukabumi: CV Jejak.
Fonna, Nurdianita. 2019. Pengembangan Revolusi Industri 4.0 dalam Berbagai Bidang. Bogor: Guepedia Publisher.
Gunawan. 2019. Mencari Peluang di Revolusi Industri 4.0 untuk Melalui Era Diserupsi 4.0. Lampung: Queency Publisher.
Prawiradilaga, dkk. 2016. Mozaik Teknologi Pendidikan: E-Learning. Jakarta: Kencana.
Prastowo, Andi. 2017. Menyusun Rencana Pelaksanaan Pembelajaran (RPP) Tematik Terpadu: Implementasi Kurikulum 2018 untuk SD/MI. Jakarta: Kencana
Raharjo, Susilo dan Gudnanto. 2018. Pemahaman Individu Teknik Non tes. Jakarta: Kencana.
Rosyada, Dede. 2013. Media Pembelajaran Sebuah Pendekatan Baru. Jakarta Selatan: GP Press Group
Sumardianta, J dan Wahyu Kris Aw. 2018. Mendidik Generasi Z dan A. Jakarta: PT Grasindo.
Susilana, Rudi dan Cepy Riyana. 2009. Media Pembelajaran: Hakikat Pengembangan Pemanfaatan dan Penilaian. Bandung: CV Wacana Prima.
Widodo, Chomsin dan Jasmadi. 2017. Panduan Menyusun Bahan Ajar Berbasis Kompetensi. Jakarta: Elex Media Komputindo.
Panduan Pengembangan Unit Kegiatan Belajar Mandiri (UKBM). 2017. Jakarta: Kementrian Pendidikan dan Kebudayaan.
Refbacks
There are currently no refbacks.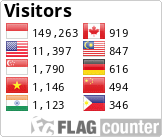 This work is licensed under a Creative Commons Attribution-NonCommercial 4.0 International License